Well, after bashing vuvuzuelas, the French, the Canadians and questioning the allegiances of white South Africans I figured I'd try to take it easy this time around. Also, with all the negativity, you might be surprised to know that I actually enjoyed this World Cup… immensely. Cape Town is a city on par with almost any other I've ever been to, the carnival atmosphere of the opening days surpassed even what the Germans had to offer and the games—aside from the opening round—lived up to the hype. But, as with most over-obsessed fans of the game, the pain is always as fresh in our minds as the joy. I'll try to dispense more joy today, I promise.
And, again, I apologize for selfishly eulogizing on my experiences. If you have a memory of your own you'd like to share, I'll be sure to post it as soon as internet in Africa will allow… so maybe a day, maybe at the end of the month when I'm finally home. Consider this my parting shot. Thanks so much for reading, commenting, debating, etc. Cheers…

Opening day
We showed up to the FIFA Fanzone in Cape Town about 3.5 hours before kickoff. And still, none of us even saw the entrance. The viewing area, basically the size of a city block, had been packed since mid-morning. The line to get in was another block long.
The pre-tournament cautionary tales of stampedes and rioting told us we should watch from the sidelines if self-preservation was an interest. No matter where you are—be it Africa or Marin County, long lines and general chaos usually doesn't make for easy crowd control.
But something became apparent after only a few minutes: no one was agitated at being in a line that would make the Oakland DMV jealous. In fact, people seemed to be enjoying themselves. It was all smiles, singing and, of course vuvuzuelas—from the sea of humanity green and yellow horns would intermittently surface and make the announcement: the World Cup is about to begin.
That so many people could have a good time in such a massive crowd without the help of alcohol (public drinking in South Africa, unlike in Germany, is illegal) was the clearest indication that this was going to be a very, very good month.
A South Africa without the World Cup
I presumed that, the World Cup being kind of a big deal and all, we would always find a place to watch the games in South Africa, regardless of how undeveloped an outpost we might find ourselves in. No matter how remote, everyone would be huddled together outside a hut, glued to a 13" TV—or that's what a lifetime of Coca-Cola commercials have led me to believe.
The sleepy West Coast resort town of Langebaan, about an hours drive north of Cape Town, proved me wrong. We were there for one of the famed beach restaurants that dot the area. (I highly advise going if you ever find yourself in Cape Town, by the way. For about $25 you get 10 courses. And not just "courses" in fancy American restaurant speak where they serve you a piece of glorified ham garnished with 4 peas; we're talking 10 courses of all you can eat, freshly caught, grilled on an open fire right in front you, slathered in delicious garlic butter seafood, all served open air on the beach. Plus there's a beach bar (read: shack) stocked with ice cold $1 beer and $5 bottles of tolerable white wine. In other words, it was worth missing Japan v. Holland. Check it out at www.strandloper.com)
Missing one World Cup match is tolerable (only when there is $1 beer and unlimited fill in the blank), but missing two would be an exorbitant toll to pay. We had planned on being done with lunch in time to catch the 4pm kickoff somewhere in town.
What the guidebooks won't mention is that Langebaan is a rugby town. Note for next time I'm in South Africa: do not expect to find soccer in a rugby town when the Springboks (the national rugby team) are playing. To our dismay, every bar and restaurant in that god-forsaken, sandblasted ghost town was showing the Springboks dominating the Italians in, from what I could tell, a completely meaningless game.
But neither the insignificance of the game nor the 28-3 score line moved any of the half-dozen bartenders we kindly asked to change the channel. They all gave the same line: "Right after the game is done." The game? Hey, buddy: THE GAME is on the other channel!! THE GAME is kicking off right now!!!! When the World Cup is on, there is no other GAME.
Being in South Africa and not getting to watch the World Cup is on par with being at a 10 course seafood beach barbeque with your jaw wired shut. It was a cruel retribution for our gluttony.
Also, as mentioned, internet isn't ubiquitous on the African continent. Not only could we not watch the game, we couldn't even figure out what was going on, which, in our on-demand world, is insult upon injury. There was a time on this trip when I felt liberated by not having my handheld 3G technology glued to me. On this day, I felt imprisoned by the crap $5 phone I had that only makes calls (when it feels like it) and sends texts.
Rather than making the hour-long drive back to Cape Town and missing the whole Ghana v. Australia game, we stayed. After watching a half of lopsided rugby (which is a whole half more than I've ever watched previously) the channel was finally changed, but only begrudgingly. We had to threaten to take our business on the road when the restaurant manager requested that the rugby remain on until after the post match interviews and analysis. Australia and Ghana had already scored the only two goals and a majority of the excitement the game had to offer.
For one day, Langebaan stole my World Cup. Thankfully, I had enough garlic mussels to make them regret ever having me there.
Coubilaly's Gift
At the time I considered it the greatest crime against not just U.S. soccer, but American sports as a whole. There was USA vs. USSR in Olympic basketball in 1972 and we had referee Koman Coubilaly's phantom foul against the U.S. in the second group game against Slovenia.
An English friend argued that Frank Lampard's goal that wasn't given against Germany was robbery of a higher order, but I disagree on these grounds: in that case, the referees simply missed seeing the ball crossing the line. Okay, it should have been obvious, but missing an event at game speed is an error that's part and parcel of the sport. What isn't part of soccer is fabricating an event where there quite simply isn't one.
At the time, it felt like someone had stolen something irreplaceable from us. It wasn't just a goal; it was the culmination of an epic World Cup comeback and an invaluable moment in U.S. soccer history. But in hindsight, Mr. Coubilaly's call wasn't theft. It was, in fact, a gift. Think about it: had he not blown his whistle, the U.S. more than likely would have won the game and been on 4 points meaning that any points against Algeria would have guaranteed them passage to the round of 16. The U.S. would have been satisfied with 0-0. Tim Howard would have fallen on the ball and wasted time after saving that Algerian header rather than releasing Landon Donovan. Had Donovan gotten the ball, he would have held it or perhaps dumped it in the corner flag. The ref would have blown the whistle and bars across America would be satisfied. Instead, because of Mr. Coubilaly's phantom foul, we have what's next:
That Goal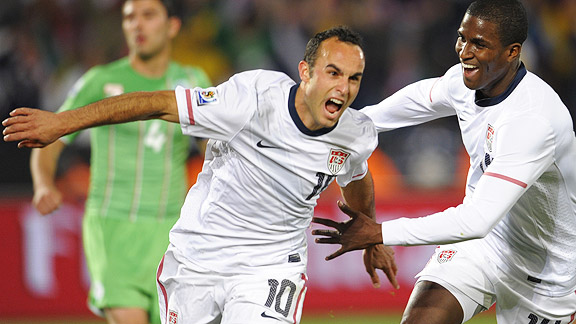 Party in the USA!!!!
© Getty Images


There is absolutely nothing I can say that will adequately describe the jubilation of the 100 or so Americans that laid siege to the Purple Turtle bar in Cape Town other than that we collectively and repeatedly danced to Miley Cyrus' "Party in the USA" without reservation or regard for dignity. By the third time they played it, I was singing along while one of my good friends, a guy I've granted the moniker "Big, White and Manly," sobbed openly. That was how big the goal was. That was how happy we were.
The World Cup finals
Well, this is my last post in this space so I might as well brag: I was there. What a way to end the month. From match 2 on June 11 to match 64 on July 11. It's been a summer to remember. I hope you found your own memories along the way; it couldn't have been too hard.