I was going to title this piece "10 moments American fans will remember" but a couple of things occurred to me while writing:
a) I tend to remember things in unusual ways, ways that other Americans may not agree with. You have my preemptive apologies for anything that might offend.
b) My experiences here in South Africa won't exactly echo that of other U.S. fans. South Africa is an enormous place, not just in size but also in terms of cultural and geographic diversity. There is no singular South African experience or singular pool of memories that will sum up the World Cup.
My cushy setup in the trendy, Californiaesque Camps Bay (just over the hill from Cape Town) has made for a much different World Cup than friends who chose to backpack their way around the whole of the country or others who stationed themselves in the urban chaos of Johannesburg for the benefit of following their teams.
None of these approaches to exploring South Africa are necessarily better or worse, just different. They say it's the soil and not the grape that makes the wine; so too it does the World Cup, I would argue.
So, in the end, I decided to simply be selfish and focus on the events that have been, for one reason or another, tattooed in my brain rather than trying to summarize a collective experience. I'm sure everyone will have their own, but in the interminable wait for Brazil 2014, these are the moments I'll turn to first for comfort:

That infernal racket
A World Cup piece grumbling about the vuvuzuelas—real original. But credit where credit is due: whether you like it or not, World Cup 2010 is, and forever will be, tethered to that sound. It's become a Pavlovian response mechanism: I hear the buzz, I think World Cup.
Of course, it has been incredibly annoying at times. In the opening days of the tournament it was acceptable practice to blow one of those poorly engineered beer bongs turned trumpets anywhere, regardless of proximity to vulnerable ears. Restaurants, shopping malls, grocery stores and even public bathrooms weren't immune from the soundtrack of this tournament.
Those were the heady days when South Africa was still in it. When Uruguay silenced the Bafana Bafana, they also quieted the vuvuzuela. Since, only on days where there's a game in Cape Town is the blaring constant. Those days are basically vuvezuela concerts with occasional appearances from Shakira and a soccer halftime show.
There are a few upsides to the horns. Okay, maybe just one and a half. The most prominent is the synchronized blowing of the vuvuzuela during a game. I don't know if the TV broadcasts back home really pick up on it but when 40,000+ people sound off in unison it gets loud to the point of terrifying. (The drawback is that there never seems to be a rhyme or reason for the orchestra—it doesn't ebb and flow with the game like the soccer songs we're used to—it just happens as an independent event from the game. In this sense, it could be argued that this is yet another downside of the vuvuzuela.)
The other half point I'm willing to concede to the vuvuzuela is when some eager fan tries and fails miserably to use one. The look of shame is fantastic: from excited to embarrassed to "oh, I didn't really want to try it anyways," in about the time it takes to exhale. Joy in failure—it's like watching the French lose... more on that later.
Gyan's dagger and the conundrum of African support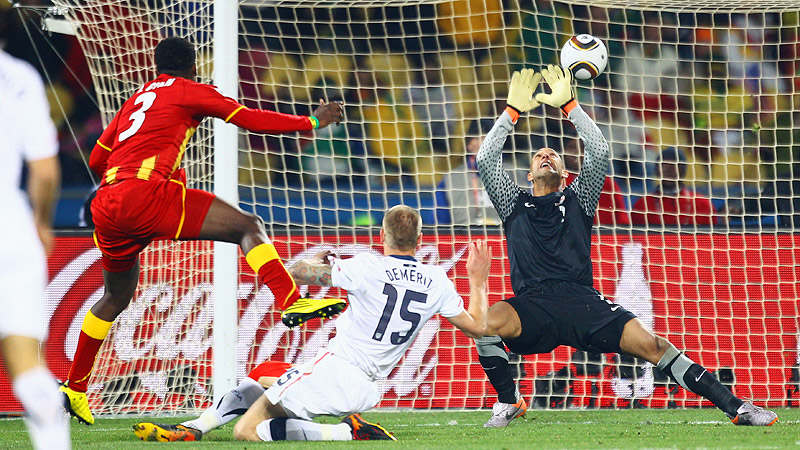 The death knell on the class of 2010. © Getty Images

I was in a quiet bar in Jeffrey's Bay, a sleepy surf town west of Port Elizabeth, with 8 American friends when it happened. It was only us, another trio of Americans and a small group of locals who didn't really seem to care that the World Cup was occurring. At some point during an incredibly tense second half, one of them actually asked me to move because he wanted to play pool. "Yeah, sure, it's only the World Cup. Don't let me get in your way."
Just as our merry band of travelers allowed hope to seep into expectation, Asamoah Gyan plunged a dagger in our hearts. From nothing, a spectacular goal just minutes into overtime. The peanut gallery behind us exploded with African pride. Like everyone else in South Africa, the billiards aficionados we shared the bar with were "Ghana fans" for at least this night.

I understand that this is Africa's tournament and, like no other continent, there is a vague sense of brotherhood among competing nations (a brotherhood that doesn't seem to really exist outside of soccer given the violence, insurrections, civil wars, etc.), but at some point I have to question the bandwagon and its members.
Is this a case of the majesty of soccer uniting people or was I witnessing a travesty?
Let me give some necessary background: these "Ghana fans" were white South Africans. Given the unavoidable specter of Apartheid in South Africa, I have to ask: does the Ghanaian team really represent the same Africa as that of these particular Africans? In other words: is it disingenuous that they, sons and daughters of the oppressors, get to erupt when the team of some far-away nation comprised entirely of the oppressed race scores a goal? (When answering this question, consider that soccer is undeniably the sport of blacks in almost all of colonial Africa—more on this later). Or should I see this as an inspirational part of the reconciliation process—that formerly divided factions can stand under the same flag?
At the time of Gyan's goal, I would have gone for the former—disingenuous, fair-weather bandwagoning with a disturbingly ironic twist. Looking back, I'll admit that I was probably just bitter. In fact, it was most likely neither of the cases that I outlined, but something far more innocent: it's simply fun to have someone to cheer for. That being the case: Hup Holland!!!
The French self-destructing.
Yeah, I know, this has absolutely nothing to do with the U.S. National Team but what could be more American than to enjoy watching the French lose. And in such poetically hilarious fashion…
Since the moment Zidane tried penetrate Marco Materazzi's breast plate with his head, it's been one debacle after another. That a teenage prostitution scandal has only been a footnote in their sordid campaign says it all.
A star striker dismissed, the announcement of a new coach just ahead of the World Cup, a mid-tournament player rebellion in which they locked themselves in the team bus (is Lindsay Lohan the captain of France?), going 0 for 6 in the last two major tournaments, and an act of cheating so great that it prompted Irish pubs everywhere to serve free drinks whenever France got scored on.
And oh yeah, there was the teenage prostitution thing. Star player Franck Ribery has, according to reports, entered the "she told me she was 18" plea to investigators. The teen in question (16 at the time) was allegedly Ribery's birthday gift to himself. I got myself a cheesecake. Franck Ribery and I have very different concepts of gift giving.

Few will feel sorry for them, though. For one thing, they won the World Cup and the European Championships only a decade ago and have been blessed with world class talent that other nations could only dream of. Secondly, they're French. No one ever feels sorry for the French.
The Hand of Clod
Aside from the obvious fact that Robert Green's clanger gave the U.S. a draw against England, I will personally remember this moment forever for two reasons:
1. It gave rise to a chant that, even as both the U.S. and England are out of the World Cup, we still belt out whenever we see anyone in those white polos the English call a "kit": "The Queen, the Queen, she's better than Robert Green! The Queen, the Queen, she's better than Robert Green!" I am immature.

John Terry has his classy white polo on for the halftime tea interval. © Getty Images

2. During the U.S. v. England game I got in a rather heated argument with an England fan about whether Clint Dempsey had a better season than Steven Gerrard. My contention was that Dempsey played a more influential role on a team that overachieved as opposed to Gerrard who had a diminished role in a team that underachieved yatta yatta yatta. Now, I would have just agreed to disagree had this been any ordinary England fan, but this guy was Canadian. He had a maple leaf patch on his fanny pack (yes, fanny pack) so everyone knew exactly where he was from: Not America.
(Aside: there are an army of Canadian travelers across Europe, Southeast Asia, South America—wherever travelers go—that wear the red maple leaf somewhere on their apparel or body. Patriotism is good and great, but it's become apparent to me that the symbol is not so much a matter of Canadian pride but a means to ensure that they're not mistaken for ugly Americans. Rather ironic that "enlightened" travelers of the world—those who are, in principle, open to all cultures—are so opposed to the idea of being mistaken for the culture most similar to their own that they've become militant flag-bearers.)
When Gerrard scored for England the guy rubbed my face in it like he was a 7th generation Scouser. I wish I were there to return the favor but the raisin I call my bladder had me in the bathroom line when Robert Green forgot the rules and decided to score on himself. I'm not sure what I regret more: not seeing Dempsey's goal live or not being able to tell the Not American what Steven Gerrard can do with his armband.
Either way, I'll remember Rob Green's error as the moment Clint Dempsey scored a goal against both England and Canada.
Germany 4 Argentina 0
There wasn't really a singular moment from this game that stood out, but this game has made the list because it punctuated a woeful World Cup for the Messi-Ronaldo-Rooney triumverate that's hailed as the world's best. Among them, they tallied one goal. The only one of them who managed to reach the quarterfinals was embarrassingly outplayed by a previously unheralded German team. Ronaldo moped, Rooney seethed, Messi went quiet when it mattered most. Was it the pressure? The exhaustion of long European seasons? Or was it just random chance that all three of them would have a bad couple of weeks?
Regardless, many fans will be disappointed that they didn't get to see the best play their best at the biggest stage. I, on the other hand, am perfectly happy. Argentina, England and Portugal were three teams that, when the chips were on the table, had only one card to play. The give it to Messi and hope strategy was clear to see as Argentina's hopes turned to desperation.

Not to worry citizens of Buenos Aires, this man will not be running naked through your streets. © Getty Images

As Germany, Spain and the Netherlands have proven, you need more than just an ace to play a winning hand. It also helps when you don't have a psychopath as your coach.
Check back in the next day or two for part II, the other five moments I'll remember. Also, this musing and others like it can be found on www.LoveSoccer-WillTravel.com.