I meant to write this yesterday but couldn't bring myself to it. Handling trauma isn't really my forte. I'm like an ostrich—when something bad happens I stick my head in the sand. I went to a game park instead. No internet. No newspaper. No TV. No banter. No World Cup. (Well, okay, I eventually watched England capitulate against Germany, but still, almost an entire day sans Cup is unchartered territory for me this summer.)
Rather than stew in my misery, I watched elephants eating and pooping (simultaneously, at times), which is all they really seem to do. Did you know that an adult elephant produces over 220 pounds of excrement in a day? That's just under 1.5 Ricardo Clark's, in case you were wondering.
I also witnessed kudus in sprint. They're remarkably fast animals but there never really seems to be a point to all their running. The end product would be the exact same if they just stood in one place, which reminds me of a certain American striker, first name starts with an 'R,' ends in 'obbie.'
Okay, so I guess I didn't do a very good job of pushing Saturday's loss into the back of my mind. It's not that I'm bitter. I don't think any American fan can call a round of 16 exit (in overtime, no less) a genuine disappointment. It's just that hope had so nearly blossomed into expectation. We were playing well. Landon Donovan was scoring goals. Morale was high. The road wasn't necessarily easy but it wasn't Germany then Argentina as it would have been had we failed to win our group. A spot in the semifinals was there for the taking.

But, just as those dreams seemed like they were coming to fruition, a goal from nowhere—a goal worthy of winning any game—showed us to the same door we exited in 2006: a 2-1 loss to Ghana. Asamoah Gyan's 93rd minute thunderbolt proved to be a deficit the fighting spirit of the U.S. couldn't overcome.
Gyan's moment of brilliance might have been the difference on the scoresheet, but the foundations of the U.S. downfall were laid by our own hands. Bob Bradley's inexplicable decisions to start Ricardo Clark and Robbie Findley resulted in one goal conceded one golden chance gone begging.
I think Bob Bradley is an excellent man manager (and deserves to be around after the tournament) but his loyalties have betrayed him on this occasion. Ricardo Clark (who I also like and think will eventually play a more positive role in the national team setup) never returned to the form that preceded his move to Europe. Rather than taking a simple touch away from pressure (the first lesson of playing center midfield), Clark tried to take on Kevin Prince Boateng who accepted the gift and strolled 40 yards before beating Howard at his near-post.
Losing the ball was crime #1; #2 was failing to get back quickly enough to even provide enough help so that DeMerit could apply pressure to the shooter. Lesson #2 of playing center midfield: if you can't get back to challenge, make a b-line to your penalty area so your defenders can step up and address the ball knowing that they have cover.
It's no coincidence that the U.S. turned things around in a drastic away after Clark was replaced by Maurice Edu. The latter's presence seemed to have an immediate calming effect on the U.S. midfield and, by extension, the team.
The speed with which Edu tracked back and closed space in midfield as well his tidy possession places serious question marks on Bradley's steadfast preference for Clark. With plenty of Edu's abilities on show in the Algeria game where he had very little help defensively, I wonder what Bradley saw that made him reinstall the man so badly beaten against England.
Clark's error could have been atoned for in the first half but the receiving end of the opportunity was Robbie Findley who has spent the summer anointing himself the Emile Heskey of America. (I literally uttered the phrase "oh god no" when I realized it was Findley clear on goal). He didn't flub the chance as badly as he proved capable of, but finishing one on one's inside the box are the primary duty of strikers. If you want to make it to the semifinals, those are the chances your striker has to take.
Again, I have to question Bradley's infatuation with having a speedy second striker—none of that pace is any use if there's no end product. What irks me further about Findley's place in the team is the lack of a goal scoring forward, i.e. we're playing with two Emile Heskeys. While Altidore's place in the team is merited for his ability to hold up the ball, take on his man and cause general chaos, he has still proven to be grossly unpolished in front of the net. Altidore needs someone else to do the finishing. We have two goal poachers on the bench who came into the tournament red-hot, yet Bradley chose a guy that twice missed open nets in the warm-up matches?
But let me stop my moaning before it gets out of hand—I'm not here to crucify Bob Bradley for his decision-making. He made up for the odd case of poor judgment by instilling his side with what was so obviously missing from 2006 class: team spirit and belief. That those qualities didn't see us further is a shame but as England have proven with their meek demise, it's the not the names on the shirt, it's the heart beating underneath it. Rather than counting on our "stars" to carry us forward, the U.S. can rely on a less tangible commodities like confidence and self-belief.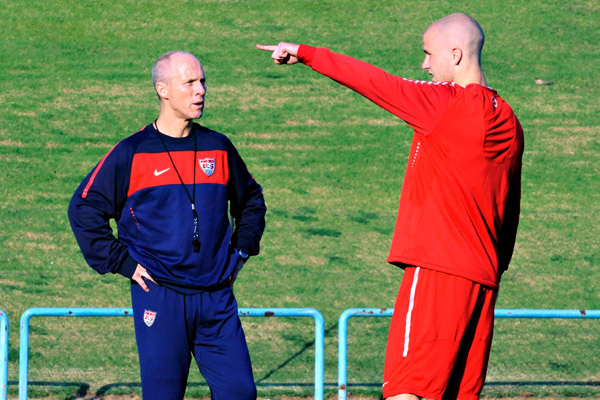 Two for the future: Bob Bradley and son Michael © Getty Images

I'm sure some big name European managers will be floated around (Fabio Capello, perhaps?) but for all their tactical nous, it's motivation that matters most. There never seemed to be any shortage of that under Bob Bradley.
I know it's another 4 years (knock wood) to another U.S. World Cup match, but let's prolong this dwindling World Cup. Stick with me in the coming days… I'll have my final player evaluations as well more on the fan experience in South Africa. Plus, I'm going to rail on Canadians. Do you need any more reasons to keep reading?

Comments