American Dream still well and alive
Let the bitterness not consume you, there is still hope. Despite the feeling that my soul had been leeched out through my skin last Friday, the U.S. still stand every chance of not just qualifying for the knockout stages, but winning their group. Sure, a referee's error cost Bob Bradley's men two points but if they can't win games under pressure like the one against Algeria, they simply aren't one of the 16 best teams in the world, regardless of previous transgressions against them or superior talent (hear that England?). Good teams win games like this. Period. It can't be any simpler than that.
That being said, here are the scenarios for the U.S.:
Loss: Pack your bags, we're headed home. In the meantime, Mr. Koman Coulibaly should go ahead and cancel any American vacation plans he has for next decade or so.

Draw: Precarious. A draw and an England win would see us home as well. If Slovenia hold England, however, the tie-breaker will come down to goals scored, which the U.S. are currently ahead of England on after the latter fired blanks against Algeria. If the U.S. draw and England lose, the U.S. are through. Basically, if the U.S. are struggling against Algeria, start cheering for Slovenia.
If the U.S. were to draw and get through, they would do so as runner-up meaning they will play the winner of Group D in Bloemfontein on June 27.
Win: Full points against Algeria will ensure progress to the knockout stages. Where they go will be dependent on England v. Slovenia. If England win by a greater margin than the U.S., they win the group and Slovenia are out. If the U.S. win by the same margin, England will need at least 3 goals to finish first. If Slovenia win, England are out and the U.S. finish second. If Slovenia draw, England are also out, while Slovenia would need to score at least 2 goals to win the group. A 1-1 or 0-0 draw would put the U.S. top of the group. The winner of group C, any one of England, Slovenia or the U.S. would play the runner-up of Group D on June 26 in Rustenburg. Confused yet?
Algerian enigma
The problem with preparing for a team like Algeria is that there are no reliable case studies for Bob Bradley to draw upon. The team was basically assembled by coach Mohammed Saadane after the Africa Cup of Nations in February (he even enlisted non-natural Algerians to help the cause). Only 11 members of the current World Cup squad participated in that tournament four months prior.
And while the previous 180 minutes of their World Cup will give Bob Bradley some clues about individual performers, he will still be in the dark regarding Saadane's tactics. In their opening two matches, Algeria were content to soak up pressure and take a point. Tomorrow, if they want their World Cup to continue, Saadane's men will have to actively pursue a win. Will we see the Algerians play with two up front? Will they still sit deep and try to hit on the counter? Will they go for broke and play without a goalkeeper? Who knows? This team is a complete enigma.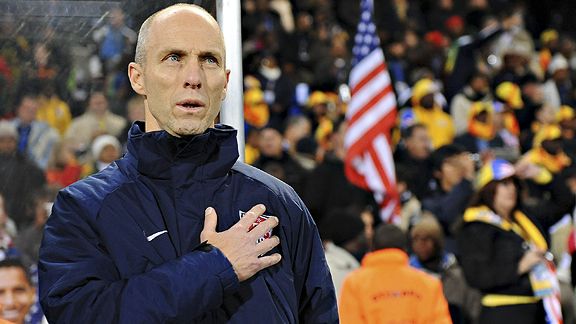 How do you solve a problem like Algeria? © Getty Images

Another statistic for the pessimists
In the current World Cup format, the United States have never won or drawn a third group match. 0-0-5. That being said, we broke our duck against Eastern European teams in the last match (and should have done so with a flourish) so there's no reason to believe that we aren't meant to overcome another jinx. Records are meant to be broken, after all.
England camp enter le chaos
After the spectacular (and rather hilarious) capitulation of the French camp, the English are threatening to follow suit. After 26 mostly successful matches under the singular authority of Fabio Capello, Friday's lackluster draw has suddenly resulted in a public insurgency by members of the squad. No one had a problem with any of Capello's tactics when they were cruising through qualification, but with one dreadful performance, questions about preparation, personnel and even how the players spend their free time (Capello's no beer policy is a apparently too much to bear for some on the England squad) have suddenly come out of the woodwork.

As with all negative press revolving around the England National Team these days, one has to look no further than John Terry. The deposed captain publicly called for Joe Cole's participation against Slovenia and then arranged a player's meeting on Sunday night. The difference between England and France is simple: England have a firm and respected authority figure in Fabio Capello. France have the sports preeminent dunce, Raymond Domonech. Terry was rightfully put in his place by Capello, who called it a "big mistake… a very big mistake."

Another case of England fans overstepping their bounds: forgiving John Terry for cuckolding his wife. Call me old fashioned, but I don't think it's really your place to do that, drunk guy with sign. © Getty Images

Considering how intra-squad controversy heading into a crucial match worked out for France, I would have to agree completely with Capello. Of course, mistakes are becoming commonplace for John Terry. Just ask Wayne Bridge.