In a month that saw the news of our long time kit lady Winnie leaving, it was Ricardo Fuller who was hung out to dry as Pulis poked his finger in the eyes of the fans who dared to suggest he should be starting over the ever inept Walters.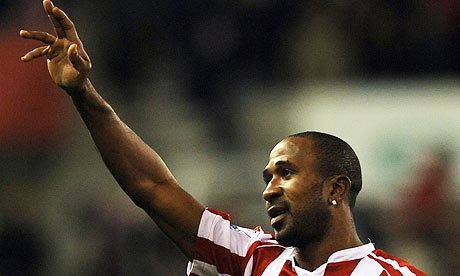 Farewell... © Paul Ellis/AFP/Getty Images

We all know what Pulis is like, we know how he treats crowd favourites he doesn't play over lesser talented triers, it's happened before, he either leaves them to rot week after week or we get to the point where he can't possibly do that anymore (as he did with Jerome after his recent goal scoring exploits) In this case though, it was Fuller, the player who has almost single handedly carried Pulis' system for the past 6/7 years, a player the entire crowd call for on an almost weekly basis as Pulis is mesmerised and blinded in equal measure by Walter's OPTA stats. What he did with both of these players this season was play them in a position where he knew they would struggle to make an impact to make sure we know who is in charge. Some people might call me paranoid but let me try to explain my thoughts.
Pulis knows Fuller better than anyone, he has stood up for him on countless occasions, perhaps where he shouldn't have done at times too, so he knows what the player is and isn't capable of. He has stuck up for his languid and apparent laboured style to those who can't appreciate the player's method of conserving his energy out of possession to suddenly fire into life in the right places. He of all people knows more than anyone that Fuller would struggle on the wing yet that is exactly where he put him, after all he couldn't possibly put him up front where he could embarrass the 'efforts' of Jon Walters in front of goal and make the manager look stupid? In fact, he nearly did exactly that as Ric turned Boyata inside out early on before having his shot tipped around the post.
I was screaming out for Pulis to move Walters wide (if he HAS to play) to a position he has played in for years, but he resisted and kept the static Walters up top with the attacking threat of Fuller chasing the winger back into the fullback position as Huth (another out of position) went narrow on the back foot. It was therefore hardly surprising that Ric looked knackered after too long, what with the manager giving him a handful of showings all season (his last 4 from the left wing I believe). By the second half Pulis had made his point and hooked Fuller to bring on Jerome, seconds later Walters moved to the wing to allow Jerome to play up front in a move akin to sticking two fingers up to the crowd, it worked, people were incensed though ensured that Ric got the ovation he truly deserves.
It's almost certain that he'll be on his way now and he'll be remembered by me as the most exciting player I have ever seen at Stoke and as much as I'd love him to stay, it is simply scandalous to see the manager desecrate his memory having him sat on the bench or hung out to dry on the wing to accommodate his obsession of Walters and fear of ability – and that's no way to treat a legend.

Vis Unita Fortior

Comments