On a day where we knew it would be a backs to the wall effort against one of the league's big guns our maverick striker decided to stamp on an opposition player leaving us with an even bigger mountain to climb than the one we started with.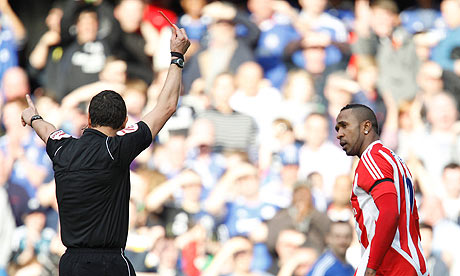 Time to say goodbye? ©Jed Leicester/Action Images

We all know about Ric's temperament and over the years it's become something to praise him as well as beat him with. This wasn't particularly good timing on Ric's part though, he's been slowly trying to work his way back into favour in a side devoid of any pace or inspiration up top, and despite being given some daunting tasks of late has looked more like the Ric we know and love. This game was his big chance, his first league start in a year I believe but having got into a few tussles with Ivanovic the writing was on the wall, the red mist descended and it was only a matter of time before he snapped and snap he did in a move that made any man watching cross his legs and feel sick to the stomach.
In the past the Manager and indeed the fans have been more tolerant of Ric's ways, in the Championship a side with little flair depended on his magic moments and it was a case of doing whatever possible to get and keep him on the pitch, even in our first season up, it was his side the manager took when he stood by the Jamaican over his club captain but this time given where the club and player are, I think things will be different.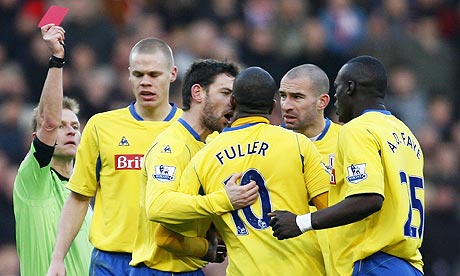 Taking sides... ©Ian Kington/AFP/Getty Images

There are no two ways about it, Ric is the most exciting forward I have ever seen in my years of supporting the Potters and whilst I think there is still a place in the side for the good things he brings to the table, I fear this latest incident will have made the manager's mind up as to what happens next in Ric's Stoke career. With his contract up at the end of the season and having two firm favourites up top I can see Ric on his way come September 1st and whilst it's a huge shame and a big blow to a generation of fans brought up on equal levels of both the sublime and ridiculous, it's probably the right decision.
The game itself was nothing much to write home about and much like Valencia, I can't imagine having to play out wide left would have helped Ric's frustration much, though it was nice to see Jones get a chance up top, that said it was a thankless task with eleven men, let alone ten. As we got to half time with Di Matteo sticking with the one striker despite our numerical disadvantage I almost thought we could do something but the introduction of Mata coupled with Drogba being the first African to reach 100 Premier League goals led to us going a goal down and as we see so often away from home, once we go behind there is little hope of getting anything back.
So onto the FA Cup Quarter Final match at Anfield, part of me is hopeful of Pulis having a go at an unimpressive and under pressure Liverpool side with both wingers but the other half is expecting another park the bus effort to get a draw and a replay at the Brit. I guess we'll have to see, but the prospect of a third visit to Wembley in 12 months is the stuff of dreams and whilst I moan like a drain at times these last few seasons have been little short of miraculous.

Vis Unita Fortior

Comments
| | |
| --- | --- |
| | Post your comment |
| | |