Whilst many could argue those three victories have come against teams we'd be expected to have a chance of success against, you can't put a price on confidence and the players and fans in equal measure are once again lifted as we shot back up the table up to 8th position before negotiating a tricky trip to manager less Chelsea.
It was a similar game to Swansea in many respects, it was another promoted side, Asmir kept his place (and another clean sheet) and thankfully Woodgate was nowhere to be seen amidst nasty rumours he was set for a new deal. We also saw a continuance of last week's tempo, energy and pressing in our play which gets us higher up the pitch and closer to Crouch, we look a much better side for it and even better when Wilko was withdrawn early on and we saw the introduction of Pennant. The wide man, as ever, worked his socks off after he came on, tracking back tirelessly to help out Shotton at full back and also looking as dangerous as ever as we pinned back a rather negative looking Norwich on both flanks, as well we should with the pace and delivery at our disposal in those positions.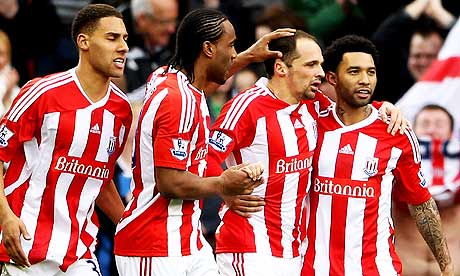 Two wingers... ©Scott Heavey/Getty Images

Whilst the team made every effort to push high up the pitch and get closer to our often immobile front line, it was clear to all that Crouch and Walters were having little joy from open play and we needed something different, I called for Jones and Jerome (or Ric) at half time and around the hour mark that's what we got, but not at the expense of a winger, instead the manager broke all tradition and kept both wingers on and removed the irremovable front two. Immediately you could see the impact of added pace, power and purpose as whilst Jones didn't make as much of his possession as Crouch might, he got more of the ball through other aspects of his play, I personally think we really miss that agility and purpose up top.
Credit must be paid to the manager for that change as it was spot on and not at the expense of one of the wingers, it was absolutely the right decision at pretty much exactly the right time (though you might argue they could have started - I digress) In fact I'm almost certain that since Crouch/Walters have been up top the manager has never replaced both with two strikers and no sacrifice on the wing – it was most welcome and something I'm hoping he'll be more willing to do for the remainder of the season and indeed moving forward.
It was one of those subs, Jerome, who set up the goal with a powerful flick on from a Wilson throw and having opted against not shooting before, Matty made no mistake this time as he lashed the ball inside the keepers near post despite Jones being open and unmarked. His displays have improved the last few games and he must have felt very confident to attempt a shot from there with Jones so clearly open to receive a cross in the middle and history shows that when Matty plays well, the team plays well. We can only hope that the Pennant feud comes to and end shortly so we can have our two flying wingers back, though with less than a dozen games remaining it would probably only serve to frustrate me thinking what might have been had we had both fit and in favour for the campaign as a whole.
A final word goes to the Norwich fans, one of the better followings we've seen this season from a team I've come to admire over their promoted peers. That said, I was disappointed by the arrogance a section of their fans showed after the final whistle seemingly reeling out those lines we're so familiar with after the opposition lose. I struggle to see how they could possibly call us 'anti football' given they played five across the middle and lumped it up to a lone striker and we played two wingers and two front men?

Just awful... ©footballforums.net

Then there was the other one, 'How do you watch that every week, It must be awful supporting Stoke' – I guess I can empathise with that one, Cup Finals are a pain to get to and parking at Wembley is scandalous (twice) and as for Valencia, my legs are still aching from the stairs at the Mestalla but I'm sure I'll get over it – by the way, thanks for the three points.

Vis Unita Fortior