Wintry... ©PA

It was never going to be a pretty game given the snow, and one could argue that the game shouldn't have gone ahead at all such were the difficulties in seeing where the lines on the pitch were, in retrospect, I wish the decision had gone the other way.
The team sheet suggested that 'Snow' has now been added to the list of weather conditions Palacios is unable to function in as the Honduran was once again unceremoniously dropped altogether meaning a return for the Delap/Whelan partnership with Matty missing out again meaning just the one winger, Pennant, featured.
There are actually many talking points from the match, I'll attempt to summarise a few below;
Evolution (or lack thereof) – Last season we seemed to find a blend of hard work and creativity as from March onwards we showed Champions League form culminating in the 5-0 defeat of Bolton at Wembley. It's therefore fair to expect that having spent over £20m in the months following we would build on that and push on even more, sadly this has not been the case. Pulis has repeated his perennial madness of breaking up a working formula, this year by the signing of Woodgate/Crouch. In doing so the side has suffered and the treatment of last year's player of the year as well as last year's top scorer has been grossly unfair. As well as finishing as last year's top scorer, Jones was top scorer before transfer deadline day, and then Crouch came in and he was dropped quicker than Meyler on ice skates.
In accommodating these players we have regressed back to the most basic form of 'Pulisball' and have even taken to only playing one winger, and once he has been doubled up on we rely on the 'pace' of the front two to get on the front foot (who look like they run in treacle) supported by the midfield two (who are sat in the toes of the centre backs) – you can see where this going.
Strikers – We know how Pulis works by now, we have a very rigid set up for our men up top with either one dropping deep as a target man (Mama) or a Duracell bunny (Walters), both sacrifice their own glory, both need a pacy striker in front of them to chase flick on's or run the channels – enter Peter Crouch…who does neither. I'm still stunned that we signed Crouch, we'd identified what was needed, a Fuller replacement, and we nearly had it in Ba; a player with pace, power and strength. We then went from that model to an aging target man who, whilst an exceptional footballer, needs support from the midfield and a pacy option to partner him. It seemed Ba could have filled either of our striking roles, whilst Crouch doesn't really fill either. This might be unfair on Crouch and we even showed early signs of accommodating his play with two wingers and a less restricted midfield and he rewarded us with a handful of goals, but in regressing back to hoof and hope with a single winger, the manager has denied him the opportunity to continue his impressive form as he grows increasingly isolated in front of a deep midfield and a knackered Walters.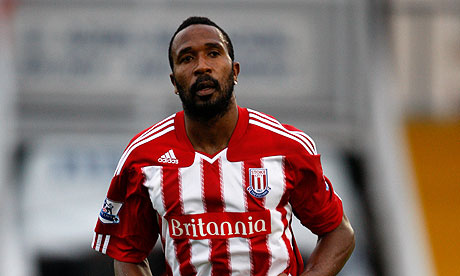 Back to basics? © Mike Egerton/Empics Sport

So what's the answer? Well, Saturday marked the return of Ric who singlehandedly carried our attacking threat, as he has done for many years previous, it's a sorry situation when we have spent so much on strikers, our best option under the current system is a 32yr old returning from his latest serious injury. It's clear that if the manager insists on going back to basics then he needs to employ the best striking options for doing so, which is having a Ric/Jerome as the furthermost forward player. To his credit (or maybe forced due to injury) he has given Jerome a chance in the last couple of games, with Crouch adopting the role in behind and until his injury he looked every inch the striker who leads the line, but that isn't Crouch's position, so he is wasted and ineffective there but will the manager drop him, or indeed Walters? I fear we know the answer.
So we're left in a bit of a predicament come the time when both wingers are fit and in favour, will the manager persist with the Walters/Crouch partnership? If he does, he has to get the team forward to support them, if he doesn't he needs to inject some pace, but who will give way? Walters would be my choice, if you look at his goals from open play, his record over the last 12 months isn't quite as 'super' as many make out, add to that the fact that he is being flogged to death playing every minute of our games and the case for him having a rest for the greater good of our attacking intent would appear to be most obvious.
Huth's Red – As soon as I saw Martin Atkinson was the referee and arrived at a snowy Britannia the writing was on the wall that he would play a big part in deciding the outcome of the game and that proved to be the case as he gave Huth his marching orders for a tackle you'd argue was a yellow card offence. The referee needs to apply common sense, he needs to look at the conditions and decide whether or not the challenge was reckless or dangerous, I'd hold my hands up and say the former and that carries a yellow card. Huth knew as soon as he went to ground that he was moving quicker than usual and didn't even get to the point of extending a leg, let along locking it up and as such slid sideways on his knees into the foot of a jumping Meyler. What then followed was as farcical as it was embarrassing as not only did the referee not give himself time to think or consult his linesman, he glanced at Meyler, who had decided to roll on the ground as if he was on fire, noted the barrage of Sunderland players more intent on getting Huth sent off as opposed to making sure their player was ok, and sent Huth off.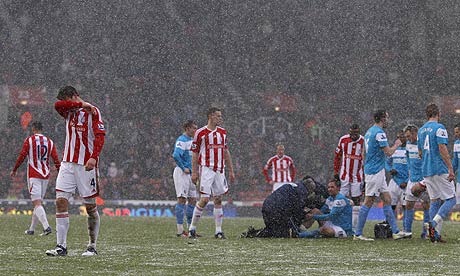 Atkinson at it again... ©Dave Thompson/PA

So the arguments begin, the bottom line is it was not a red card, so the referee didn't do his job properly. Add to that the 'disease' of players trying to get a fellow professionals sent off through simulation and it paints a pretty sorry picture of acceptable standards in the modern game. I'm not saying Meyler should have shrugged it off but was the reaction of staying down and rolling around proportionate to the limited contact that was made? I don't think so. Indeed as soon as the card was out, Huth was barely at the entrance of the tunnel as Meyler jumped up and starting running to the line to come back on. Pulis makes a valid point that this is indeed is becoming a real issue in the game today, could he have handled it better? Perhaps, but then so could have Meyler.
There seems to be a bit of a campaign to stamp out dangerous tackles, without actually clarifying what is and isn't allowed. In fact, watching the Spurs v Liverpool game last night there were at least three challenges that were worst than Huth's, all received yellows from an up and coming referee gaining plaudits across the board for his common sense approach to the game. Let's hope that justice prevails and Huth's card is rescinded, if it is then we get our player back but still lose the game and Atkinson still gets the opportunity to ruin someone else's day. If it's not rescinded then that would indicate that the FA want to have a poster boy for their latest ill thought campaign which would be another nail in the coffin of the game we all fell in love with.
Vis Unita Fortior