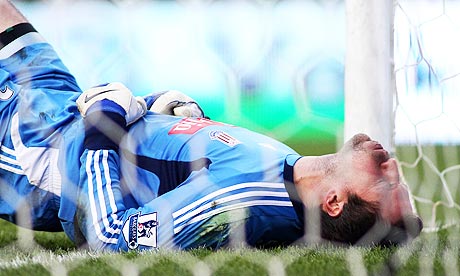 Swerve... ©Ed Sykes/Action Images

I've moaned like many at our negativity away from home but have always been safe in the knowledge that at the Bearpit, it was a different story… until this season. It seems Pulis' new thing is playing just one winger and setting up so negatively you'd think we were preparing ourselves for a match at the Camp Nou. There certainly wouldn't be an issue with the weather there, unlike the windswept Britannia which seemingly prompted Pulis to drop Palacios, the decision was ludicrous, admitting it, even worse.
Sadly the respite of our home form is a thing of the past and it's a case of one step forward and two back as we finally strung together some acceptable performances on the road only to see our displays at the Brit take a turn for the worse, it's infuriating and even worse, every Stoke fan there knew how it could so easily be remedied. It was a sorry state of affairs with a fit and willing Pennant and Wilkinson kicking their heels once more on the bench and Palacios doing the same having been dropped from the squad altogether, the club even put him in a box such was their concern for his wellbeing out in the elements.
So we come back to this right hand side, where the utterly woeful Woodgate still manages to get a place in the side, week in week out he is an accident waiting to happen as opposition managers ruthlessly target him – WBA attack down their left 18% of the time on average, against us that was over 60%. Such is Pulis' distrust of Woody, he needs Shotton on to babysit him meaning we start with zero attacking threat down that side, exposing ourselves to wave after wave of attack, and if it's not Shotton covering him it's Shawcross who has to come across leaving a hole in the middle, it's simply awful to witness the whole shape of the side being disrupted accommodating one sub standard player, criminal in fact. Pulis himself knows this, I've never seen a defender substituted so often and the story now seems to be that we go a goal down and bring on the players we should have started with in the first place, effectively starting the game again a goal down but with only half an hour to win it, the situation is utterly ludicrous and the ironic cheers on Woody's latest substitution off suggests supporter patience is running very thin indeed.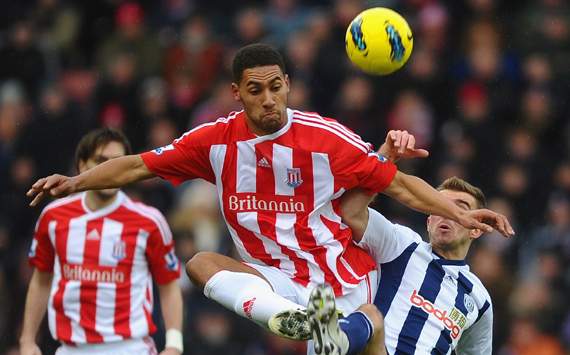 Why, why, why? ©Goal.com

All this raises the question 'why?' – I can only assume that Woodgate has a clause to play if fit but even if that was so, there are 6 months left on his deal, can we not just pay him off? I'm sure the player himself would be happy to cancel his contract, he's not doing himself any favours out there and I'm sure there is a Championship side who would take him. If we did that, you'd only be looking at a loss that could be covered with each of the fans on Saturday chipping a tenner in each, I think most would pay double that never to see the player in red and white again, whether or not this will happen, I think we know the answer but it's nice to dream.
There have been far too many lacklustre displays at the Britannia and the team looks a world away from the one post West Ham last season that played a direct, fast paced game regularly hitting teams for three and four without reply. These days, we're lucky to get a shot on target, in fact we haven't had one shot on target in the first 45 minutes in our last 3 games at home, alarm bells are ringing and this is after 'improving' that record breaking team to the tune of over £20m. I'm not sure how or why this negativity has crept in to our home form, is he rewarding the players who do well away from home in the same system, I'd like to think that the Manager would stick to his self proclaimed mantra of picking the right players for each game, on the evidence of the last few games, I'd suggest that's not the case.
One such example of this is the continual flogging of John Walters who has looked absolutely shattered for weeks now, a player who has played almost every minute of the Premier League campaign yet not rested for the cup game against Gillingham when the chance presented itself. On the bench we have a returning Fuller, and more importantly an in form and eager Jerome who has now scored three in four appearances, though when Pulis was asked about him his response was to say how good a partnership Walters and Crouch have, high praise indeed. That partnership has been so/so for me, when there isn't much support and we insist on playing one winger it is crying out for some pace and invention but there just isn't any there, I think that Crouch has the work rate and nous to play the 'Walters role' behind the other striker and it just seems criminal not to use at least one of the other three strikers we have especially when one of those offers blistering pace and is on a good run of form goals wise.

Deserves a run... ©Zimbio

So onto Derby where we will have a great following of over 5000 fans, I imagine Pulis will play the side we want, he tends to do that when it doesn't quite matter as much, the real test will be what the side looks like in the next league game, but given that is Man Utd away, that might not be the best measure of intent. What I fear will happen there is Pulis will give Jerome a chance much like he did Tuncay there last season, watch them struggle then revert back to Crouch/Walters in the next game. That said, I try my best not to second guess Pulis' mindset, it's a recipe for disaster…

Vis Unita Fortior