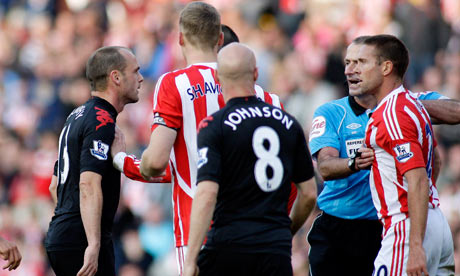 Murphy, what's the score? ©Craig Brough/Action Images

On an afternoon where baiting the outspoken Danny Murphy was the order of the day, there were quite a few positives to be taken, not least the three points and clean sheet, though I know you'd be disappointed if I didn't point out the negatives too so let me attempt to dissect the performance.
Defence
I breathed a sigh of relief when I saw Wilko's name on the team sheet, he is far and away the best option we have at right back and what's more, he continues to improve with every game. Sure a couple of his passes had Pulis virtually leaping onto the field to kick him but his energy and mobility are so welcome and it's plain to see to everyone how much Pennant's game picks up when he is behind him. What I like about Wilko is that little burst of initial pace when rushing in to the attackers space to nick the ball off his toes, it's something Pulis likes his players to do and Wilko does it better than anyone. He's been here ten years now, let's hope we see plenty more of him for ten more.
Once I heard Woodgate was injured, I just knew that it would be Upson who would come in and replace him and that's exactly what happened as our Player of the Season continued to twiddle his thumbs on the bench. As it happens, Upson had a great game, in fact I've not seen him have a poor one. He is streets ahead of Woodgate and far more in keeping with the famous 'Stoke DNA'. I don't have a problem with him keeping his place in the middle as he deserves it, whether or not Huth deserved to lose it in the first place though is an entirely different matter.
Midfield
What a difference a good performance from our wingers makes to the whole team. Neither were anywhere near the heady heights of the tail end of last season but both were much better than they have been so far this term, with Pennant in particular looking very dangerous and hungry to succeed down the right. He tormented Riise all afternoon and was seemingly given a bit more licence to move around with and without the ball, something I've noticed we are doing certainly at home, in an attempt to get in and around Crouch. Matty also looked a bit livelier following his sugar injection and got his just rewards with both assists, the second being particularly sweet (sorry)

So close... ©PremierLeague.com

I'd also like to make special mention of Delap who seemed to have swiped Matty's needle off him seemingly determined to get on the score sheet with a number of efforts on goal. It was good to see him get his moment of glory, he worked tirelessly in the middle, as he always does, and seemed to have benefitted the break. Whelan on the other hand looked pretty lethargic and didn't have his best game but having been one of the outstanding performers this season he deserves the odd bad game.
Attack
Not to keep banging on about it but I think Crouch's inclusion is to the detriment of our team. We do get around him but 90% of the time on Saturday the ball was launched to his head and he just had a real fear of leaving the ground and god forbid 'challenging' for it. The amount of times he could have run and attacked an aerial ball but didn't was driving me to distraction. I was also annoyed that he had two very good chances and fluffed them both, and it's not the first time. I'm starting to ask myself more and more exactly what he brings to the side other than a high profile name? The game was crying out for Jones after an hour or so and before Crouch's arrival I'm struggling to think of any game where Pulis has not made a change up front, yes we eventually scored a couple but it seems the big fella is going to be accommodated at all costs. I was also saddened to hear Pulis talking up Crouch's performance, which tells me he noticed how poor he was too, if he was any more transparent he'd be see through.

Unconvincing... ©Getty Images

In the last transfer window, for me we needed full backs, a centre midfielder, wingers and a new Fuller. We got our centre midfielder (though when we will see him again god only knows) and we may well see our new Fuller in Jerome but the full back positions and wings went begging….again. Pulis seems to have been blinded by the prospect of finally getting some showpiece names into his line up when, to be honest, I'd rather we had kept with the in form Huth and Jones and if we lose either of those two, who are both in their prime, to two aging and, in my opinion, sub standard players then it will be an absolute tragedy.
As always it feels like I have moaned for moaning's sake but any disappointment comes from knowing that things could be so much better with what we already have and if you think this is bad, just wait until after the Arsenal game because we all know exactly what will happen there before a ball is kicked, and to me that says it all.

Vis Unita Fortior