Set Piece Stoke... ©GettyImages


It's been a strange theme throughout Pulis' tenure, in his second spell he has brought us unrivalled success by playing a very specific way, many don't like it, but most accept it given where it has taken us. The fact remains that whilst he is one of the most successful managers in the club's long history, I can count on one hand the number of times he has had a song sung for him this and any season he's been here. A lot of resentment towards Pulis goes back to the 'Binary Season' where he, by his own admission, set the team up to not do as well as it could to prove a point to the then Icelandic Board. Pulis is a determined and stubborn man and whilst the strength of such convictions has brought us so much success, it is also his major undoing as a character.

We find ourselves on the cusp of a fourth successive season in the Premier League but after a series of awful performances there is more than a quiet voice of discontent in the Potteries about Pulis and the tactics he employs. The manager has always signed some great players on a relative shoestring budget, indeed his best purchases in the Premier League have been those of Etherington, Pennant and Begovic, all for under £3.5m each. Not all his signings have been as successful though, we have seen many come and go and the recent sale of Tuncay and indeed the signing of Carew points to a more serious point that he distrusts flair and only signs players that fit into his incredibly rigid, defensive system.

Frustrated... ©klikfc

The system has failed a lot of players in our attempts to push on, centre backs have never been a problem as they are a regimented position and often thrive under the organisation the Manager dictates. We do, however, have a problem in the full back and midfield areas and indeed have done ever since we came up and after a succession of transfer windows coming and going we now find ourselves entering a crucial part of the season with a left back in Pugh who wasn't deemed good enough in the Championship. Add to this the current experiment of trying Marc Wilson at right back and it paints a picture of not only continued failure to address known problem areas but given the fees paid out for some of the players, an attempt by the Manager to justify the signings he has made by accommodating them somewhere/anywhere in the team.

It's not just the personnel who are frustrating, it's the system we're forcing them to play and like many before him, Wilson is finding it very difficult to acclimatise to the Stoke way. Under Pulis we have never been a great footballing side and the system we play leaves so little room for error; when it works it's brilliant, fast paced, in your face organised madness but when it doesn't work it is nothing short of painful to endure. There have been a few games like this recently; Fulham, Liverpool, Blackpool and now West Brom, all coming in the last few months which given the early season promise of a more expansive style makes it all the more difficult to stomach. Many, including myself, are pondering whether or not there is a deeper, more sinister reason, much like there was under the Icelandic reign, for why our style and attitude has regressed so tellingly and dramatically over this recent period.

I've been sticking up for Pulis ever since his return because I could see a great relationship with the Chairman and noted the positive and steady progress both have made in their respective second spells in charge. For them to deliver Premier League football was nothing short of a miracle, for us to stay up, much the same, and now we're all but established as a top flight side, things on the surface at least look rosy. I do fear, however, what impact our style and indeed failure to accommodate the likes of Tuncay does to our reputation, not in the media necessarily, but for potential new signings that we need to push on to the next level. On Monday night as I watched the game, as always I kept my eye on Twitter and what people were saying about it. It seems I was feeling the same as pretty much every reporter that was there, they're neutral though and as such indifferent to any emotion a true fan might have for their team, it felt wrong that I agreed with all they were saying. Elsewhere in the Twittersphere, Darren Huckerby said he was going to watch a new Drama on TV and not the Stoke game, I asked him why, his response was;

'(I) don't like watching the way they play…'

..and you know what, at the moment, neither do I. I replied to him sticking up for my team, saying how we play to our strengths, asking how many teams does he know in the league who play with two out and out wingers, but with every letter I typed I felt like I was lying to myself. Yes we have two wingers but they have barely been on the pitch at the same time since the turn of the year, Pennant was mysteriously left out at the start of the regression to 'Binary Mode'. Even when they are on the pitch they spend so much time either running isolated with the ball or sat on the toes of the full back helping deal with the pressure we have managed to invite onto ourselves that they're ineffective. As for playing to our strengths, whilst that may have been the case in the first season, we have spent nigh on £80m assembling a side that seemingly know no other way of playing, who are just better versions of previous players playing the same percentage football.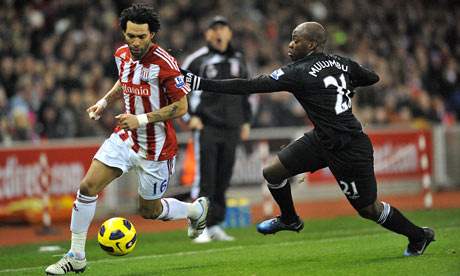 Unsupported...
©Neal Simpson/Empics Sport



The frustration of our better players, our newer players, is clear to see as both Pennant and Carew shouted at their team mates to get around them to support our attacks, but to no avail. Our attacking potency is virtually non existent and an embarrassing world away from the start of the season where we started to actually turn some of those draws into wins or even losses by attempting to win a game, the full backs were breaking forward, the midfield supporting the attack and we went on a brilliant winning streak. Since the turn of the year, I struggle to remember us scoring a goal from open play, I think there was 2 maybe 3 goals scored this year where we actually have done. This regression has seen us go into a most extreme, backs to the walls version of our game where the players are completely static, devoid of any movement whatsoever, when Pennant broke from our own third on Monday there was no-one in the opposition half apart from him, no strikers, and no midfielders, it was absolutely awful to see.

I've been reading arguments for and against retaining the services of our Manager, something I have laughed off in the past as overreaction, but I'm starting to waver in the face of what's happening right now as the signs of the dreaded Binary season rear their ugly head. Though at the same time I look at the table, see us in 10th spot and on brink of a trip to Wembley and wonder what the neutral fan must think of my moaning. The fact remains though that we are a fraction of where we should and could be based on what's been spent and what we know this team can do, and the time has come to stop playing such desperate tactics and trust the players we have to turn in the performances we know they are capable of.

Three Year Plan... ©ESPN

Arsene Wenger likened us to a Rugby team and whilst he was wrong in the context he was applying his words, he perhaps has a point. Pulis has spent so much money and yet we still have less than 40% possession most games and spend 90 mins playing for yards to allow us to push the team forward to throw a ball into the area, and whilst we're great at set pieces, a Premier League side with aspirations of Europe shouldn't be so bereft of options offensively. I guess it's a case of seeing how the much championed '3 year plan' materialises, all I know is there needs to be a significant change, and whether that is the style or the Manager remains to be seen.

Vis Unita Fortior

Don't forget to follow me on Twitter @espn_stoke for all the latest Stoke City news...


type="text/javascript">


Follow ESPNsoccernet's Football Correspondents on Twitter and Facebook