Silencing The Critics... © GettyImages

Things change quickly in football and following a poor set of performances for the last few months many were rightly concerned at the direction our season was heading but only two weeks later we find ourselves back in the top half of the table looking forward to a semi-final at Wembley, football really is a funny old game.
It was a great day and the team picked itself after the heroics of the quarter-final win, the only change being Begovic returning in goal in place of the unlucky Sorensen who had played so well the week before. The first twenty minutes were entirely forgettable as neither side established a dominance but it was a little before the half hour when following some neat build up play Pennant whipped in a cross for Walters to glance home at the near post.
After the break we came out flying having conceded possession for the last 5/10 minutes of the first half and it wasn't long before we struck again, once following a goalkeeping howler from Harper and another from the lethal left foot of our new free kick specialist Higginbotham, who impressed once more at left back. Fuller came on for the last 5 minutes and aside from getting up Joey Barton's nose, managed to latch on to a long ball from the keeper via a flick on from the impressive Walters to finish off a dejected Newcastle side and in doing so help us to achieve our biggest Premier League win.
The main talking points as follows;
Team Selection/Setup – As I've said above, the side pretty much picked itself following the heroics in the cup so it was no surprise to see them given the chance to impress again, though this time with the inclusion of Begovic. It was great to see that for the second game running we were able to name both of our wingers, the difference this makes is the single biggest factor for our recent upturn in fortunes and I can only hope and pray that both remain fit and available for the remainder of the campaign.
Higginbotham – Danny had another blinder and scored his second in as many games as he looks to have grabbed his latest chance in the side with both hands. I've said it before, but Higgy brings a much needed authority and voice to the back line and to see him shouting at Shawcross in the 92nd minute following a Newcastle half chance, seconds before we scored our fourth, gives you an idea of the level of performance demanded from the in form defender.
Pennant – Both wingers were great but it was Pennant who seemed to see most of the play, giving Matty a well earned rest on the other flank for the time he was involved. Jermaine continues to play with a smile on his face and has spoken openly at how happy he is at the club and with how well we are doing. The key now is maintain this level of performance and more importantly remain fit and available for selection as he seems to pick up niggling injuries quite readily.
Walters – Man Of The Match – Jon put in another match winning performance as he continues to disprove those doubting his ability to lead the line in the Premier League. As you'd expect of Jon, he covered every blade of grass and whilst he isn't the quickest, he is very intelligent and his run to lose Campbell and get his goal was a perfect example of timing. Pulis has gone on record as saying Jon needed a bit of confidence following his step up to the Premier League and if the last couple of games are anything to go by, he's certainly showing it in spades.
Jones – Kenwyne put in another good performance alongside Walters, again challenging for every header, chasing down every lost cause, it was a sight to behold as he bounded around with a big grin on his face once again. I'm so relieved that he is starting to play like we all know he can and it seems the support of his manager and his team mate's, if not neccesarily the crowd, have helped pull him through his difficult personal issues and we're reaping the benefits now. As I said last week, it's a case of keeping that level of performance up, and with Carew seemingly struggling with an injury, it looks like the promising partnership of Jones/Walters will get another chance to impress against Chelsea.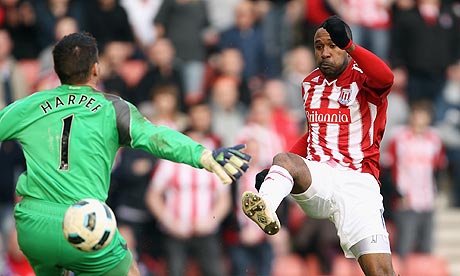 Ric's Back...
© Bryn Lennon/GettyImages


Fuller – The feeling of euphoria as Fuller slammed home a fourth was widespread, the fact it could be one of his last goals for us was not lost on the majority and the player and crowd alike took advantage and lapped up the moment. Pulis went on the radio after the game and stated that Ric had looked a different player in training this week and much more like the one we know and love, this was music to my ears. Not only did it give me hope in as much as him being on form for the run in but also hope that we may get to retain the services of the talismanic Jamaican beyond this season and whilst we all recognise he will no doubt be replaced in the Summer, a happy and in form Ric is a great asset to the team.
A final word goes to Terry Conroy who is currently recovering following emergency surgery, I'd like to wish him a full and speedy recovery and I hope we see him back at the club as soon as possible, especially as Wembley awaits us.
Vis Unita Fortior
Don't forget to follow me on Twitter @espn_stoke for all the latest Stoke City news...
Follow ESPNsoccernet's Football Correspondents on Twitter