¡Campeones! ¡Campeones! Olé! Olé! Olé!
Four years in waiting, four long years, but the Liga trophy is back at the Bernabeu for a 32nd time in Real Madrid's history. A 3-0 victory at San Mames, far from an easy place to go to clinch the title, was enough to make official what has been long in coming, with the exception of a few scares along the way this season.
Real Madrid are champions of Spain, Jose Mourinho has his fourth title in as many countries, and the Plaza de Cibeles will be the place to party tonight. Thousands upon thousands of Madridistas will descend on the city's famous monument, draped in all-white flags and scarves ready to celebrate with Madrid players and coaching staff, who'll appear to a chorus of celebratory songs on an open-top bus.
Let's just hope Sergio Ramos doesn't drop the trophy.
Madrid have been worthy winners. The table doesn't lie, as they say. Facts are facts.
Los Blancos have led La Liga since Jornada 11 when Gonzalo Higuain's goal was enough to see Madrid to a 1-0 victory at Real Sociedad. Barcelona also won 5-0 that weekend but it wasn't the Catalans Madrid overtook, it was Levante. Since then, Mourinho's men led every week but one of the season - when they lost 3-1 at home to Barca in December. The Catalans' trip to Japan for the FIFA World Club Cup allowed Madrid to regain the lead just a week later in devastating fashion when they thumped Sevilla 6-2 away.
That win was a sign of Madrid's strength this season, their resilience, their desire to win the title. An oh-so-common defeat against Barca, at the Bernabeu, which saw Barca take top-spot, could have been enough to totally derail Madrid's chances of finally overcoming their biggest rivals and bringing to an end their hat-trick of league triumphs. Such a superb start to the season all seemingly brought crashing down by another defeat against Barca. But it didn't.
This is Mourinho's Madrid. A Madrid the 'Special One' himself deemed most likely to win the title in his second year in charge, when he attended his first press conference since taking charge of the club. "I like that pressure," he said of the need to win trophies. "I don't like the pressure that I need three or four years to reach something. The second year is key. It is where we find the balance and growth of the team."
Of course, a club with the stature of Madrid is expected to go for trophies in every competition it competes in. There's no patience when it comes to success. Ask the men that have gone before Mourinho in the Bernabeu manager's seat - there have been many that have come and gone and many who have gone after achieving success of some sort. But Florentino Perez has allowed Mourinho the time to achieve his success, relatively, even if there have been a few bumps along the way.
Deliver a title next year you say, Jose? Toppling who many call the best club team to have ever played? Deal. Job done.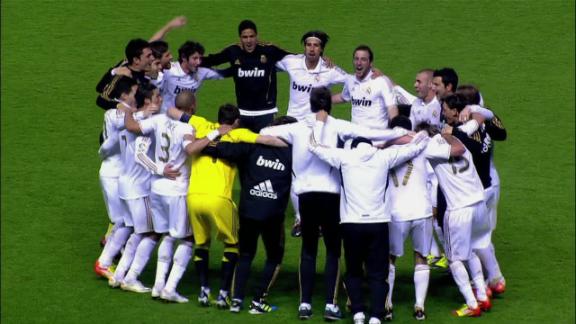 They've not just won the league and toppled Barca - they've done it with plenty of style, too. Mourinho blew away the image of him being a defensive coach by guiding Madrid to score the most goals in any Liga season with 115 and two games still to spare. An average of over 3.6 goals per home game - the Bernabeu crowd have been entertained this season, that's for sure. A 7-1 win over Osasuna, 6-2 over neighbours Rayo Vallecano, 5-0 against Espanyol and 5-1 over Real Sociedad, not to mention the various thumpings dished out away from home, including the 6-2 win at Sevilla. Madrid opened their season with a 6-0 win at Zaragoza, a sign of the season ahead.
They've already secured the highest number of away wins in a season with 15 and counting and levelled the most away league goals scored with 49, another record they should beat with one away game to come at Granada. If they win their last two matches of the season they'll have secured the highest-ever points total in La Liga with 100, pipping Pep's 2009-10 Barca side.
Madrid have been helped by 44 goals from talisman Cristiano Ronaldo, 16 assists by Mesut Ozil and 13 from Argentine Angel di Maria – even though he missed a large part of the season. Xabi Alonso, surprisingly winning his first-ever league title at the age of 30, pulling the strings in midfield, Gonzalo Higuain (22) and Karim Benzema (20) rotating perfectly in attack, and Sergio Ramos leaving his full-back role to partner Pepe in the heart of the Blancos defence.
It was going to take one heck of a season to end Barca's three-year league dominance and Madrid provided just that. Some have pointed to Barca's fatigue of playing in the mid-season FIFA World Club Cup, their somewhat understandable dip in desire to win trophies that are already safely on their CV and uncertainty over Guardiola's future at the Camp Nou as a reason for allowing Madrid to win the league, rather than Madrid raising their game to win the title fairly and squarly.
The truth is, Madrid would have been a great bet to win the title even if they did come up agains that all-conquering (Copa del Rey aside, of course) Barca side of last season. The improvements have been phenomenal. See the records and the goal and assist stats above. See Ronaldo's increased involvement in the team as a whole rather than of last season's focus on trying to topple Messi, rather than helping his team topple Barca. See Karim Benzema's huge strides forward in fitness and all-round gameplay. Kaka has improved, even if he has continued to be a bit part player and, most importantly, Mourinho has experienced the first season and improved, too. No more so-called 'anti-football' tactics to beat Barca, just a desire for Madrid to play their way with the confidence they can beat anyone.
There's still room for improvement, there always is. The full-backs have been a bit of a problem position throughout the season. Ramos's move to centre-back has been hailed a success, but Alvaro Arbeloa has been far from a pillar of strength in his place and Lass Diarra and Fabio Coentrao aren't out-and-out full-backs. Marcelo? Well, everyone knows his defensive abilities are nothing compared to his attacking qualities. Mourinho says the work starts now for next season, and I'm sure we'll see an even stronger Real Madrid side in 2012-13.
For now? It's fiesta time at Cibeles. A well-deserved celebration of a superb season for Los Blancos, from start to finish. Enjoy!
Hala Madrid! ¡Campeones!
Follow me on Twitter @nicholasrigg