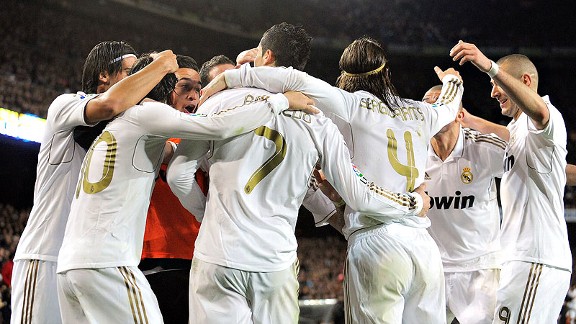 It was almost the perfect night for Jose Mourinho and his men at the Camp Nou. That's a line I've been wanting to write for the last few years, more in hope than belief. Was Jose going to use that much-loved Trivote? Were rumours of Lass Diarra starting alongside Xabi Alonso and Khedira going to prove true? Parking the bus, much like Chelsea, to nullify Barca, leave with an unspectacular draw and edge closer to the title?
Many, myself included, wondered that. What tactics was Jose going to use? As unattractive as some Madrid line-ups have been over Barcelona in recent meetings, setting up defensively to leave with a draw that would have suited Los Blancos to the ground could have been seen as sensible, if disappointing and unadventurous. Maybe not Pepe in midfield-type tactics, but tactics used in an attempt to stifle Barca's passing game.
I hoped Madrid would go about their usual game. A 4-2-3-1 line-up, going to win the game. Hope being the key word there. Not giving Barcelona the chance to say any league title win for Madrid would be tainted by their worrying inability to beat Barca.
Would Jose go attacking? Throw a bit of caution to the wind with the knowledge that a draw is all they needed, and even a defeat would leave Madrid in pole position, albeit just a point clear.
You bet he would.
After game-upon-game of tinkering against Pep Guardiola, Mourinho has finally come out on top. Boy has he come out on top. Not in an anti-football way, in a way Madrid should be playing against any team in the world, not just the so-called 'lesser' sides. Barca may still have won the possession stat, but Madrid's game plan worked an absolute treat in Barca's own back yard. The only stat that matters? 2-1.
Victory aside, the whole match was one Madridistas will be proud of. No mind games before the match (Aitor Karanka took the pre-match press conference, not Mourinho), no horrible challenges, relatively few theatrics, no classless celebrations on the Camp Nou pitch post-match (I'm thinking back to Mourinho almost causing a riot when he guided his Inter Milan side through to the Champions League final with an aggregate victory over the Catalans). Just a deserved, solid victory for Madrid in a Clasico. At Barcelona. One that should decide where the title is going this season.
Pep came in for some criticism post-match for his tactics. A 3-4-3 line-up with Gerard Pique on the bench? Adriano starting at the back? No Cesc or Sanchez (who was said to be 50-50 before the match). Cristian Tello and Thiago starting? Few have said the selection was down to the quick turnaround of matches, Pep thinking the title race was over regardless and having one eye on Chelsea. While that may be true to an extent, this is a game Guardiola, the players and Los Cules will have desperately wanted to win, and Madrid simply proved too good.
Messi, Iniesta and Xavi. All kept under wraps by the well-organised Madrid defence. Messi may have carved out some chances for the hosts, but it was little compared to his usual brilliance in Clasico matches.
Easy to say now, of course, but it's a victory that's been coming in my opinion. While Madrid have often looked nervous and a bit desperate on home soil in Clasico matches, they've been no pushovers at the Camp Nou in recent matches (the 5-0 aside). Los Blancos should have won the Copa del Rey game there earlier this season (which finished 2-2, Barca progressing on aggregate) and they ran Barca ever-so close in the Spanish Super Cup. Strangely enough, with almost 100,000 Barca fans baying for blood, Madrid have looked more relaxed and more focused in Catalonia.
It showed on Saturday night. Madrid out-pressed Barcelona throughout. They gave their hosts little time on the ball, and whenever Messi the maestro got near the ball, he was hounded off it by three or four Madrid players. Not kicking, not fouling, just pressing and winning the ball - fairly. Los Blancos were organised, strong and focused, forcing Barca to play loose balls and thwarting their attacking spark. All this without having to play an extra defensive midfielder.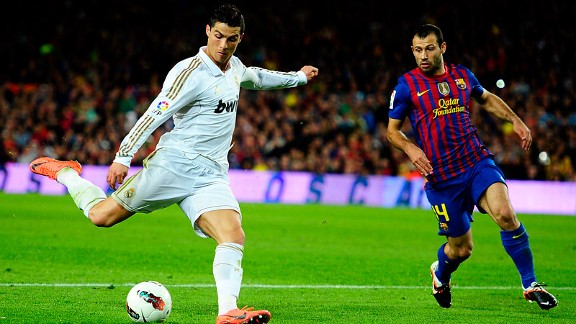 Ronaldo was excellent. While Madrid can now get that monkey off their shoulder of not being able to beat Barca en-route to the title, Ronaldo can also quash a personal complaint against him - that he disappears in the big matches. CR7 has now scored four goals in the last five meetings between the sides, on top of bagging the winner in last season's cup final. The winner to all-but sew-up this year's title? Not bad going, and a goal that typified Madrid's excellence this season. A powerful, fast breakaway. A sublime ball from Mesut Ozil, and a superb finish by the Portuguese. What a way to win the game.
The winner also highlighted Madrid's resilience this season. It came just minutes after Sanchez had equalised, with the Camp Nou still celebrating. In previous campaigns Madrid would have wilted under the pressure following a Barca goal. Not this time. Instead? Just go straight down the other end and regain that advantage. There's a saying coined in England called 'bouncebackability' - not surprisingly the ability to bounce straight back after a defeat. Madrid have shown that in abundance this season, although thankfully it's not been required on too many occasions.
It was also a record-breaking day for Madrid. They went into the game needing just a goal to break their own 22-year-old record of most goals scored in a La Liga season. On 107 ahead of the game, few would have bet Khedira would be the man to get Madrid over the line. It wasn't really a goal worthy of a new record, but they all count. Ronaldo's winner also set him alone in leading the individual league goals tally with 42 - one ahead of Messi.
A Clasico victory - check. A La Liga title - almost. The end of the Barca cycle? Too soon to call, but the balance is definitely tipping firmly in Madrid's favour and has been all season. Saturday night's result, and the league table at present proves that. Madrid claiming a Liga and Champions League double? Few could then doubt Madrid's current superiority over Barca.
Hala Madrid!
Follow me on Twitter: @nicholasrigg