I had to wait a few days to write this article. Simply put, it was the most agonizing ninety minutes of my life. If there was a video crew on hand to tape my sheer range of emotions I would've probably won an Oscar.
Now, as I wrote in my last article, our passion for football is what drives us to behave like uncontrollable idiots - pumping fists and gleeing in delight. However, a quick look towards the darker end of the spectrum and results vary. One moment can turn a passionate fan into a violent, raging lunatic, yelling obscenities and turning any simple household item in the room into a high speed projectile.
Milan Juventus isn't so much a football match anymore as it is a rugby scrum. In essence, it should be the real derby d'Italia, as it pits the team that has won the most domestic trophies, versus the most prestigious Italian side in European competitions.
First thought on my mind are the events that have turned Giorgio Chiellini into the ultimate villain for Milanisti. In the weeks leading up to the match, Giorgio made headlines for his unfavorable snitching of Zlatan Ibrahimovic slapping Marco Storari, a mere love tap that went unseen before Chiellini made sure every news outlet in Italy knew about it post match. Chiellini and Ambrosini had quite a physical altercation after the match, and it is clear that the Rossoneri players were not too fond of his actions. Galliani & Ambrosini were two who made negative remarks to the papers in the weeks leading up to the game, saying that this type of behavior does not belong on a pitch.
Second thought on my mind: The raging Philippe Mexes should win some sort of honorary award from another psychotic boxer Mike Tyson. For those of you who missed it, Mexes delivered five knuckles of fury into the unsuspecting kidneys of former Milan striker Marco Borriello. Mexes has committed a similar crime before. Don't let his blonde ponytails confuse you, the French defender is at times a malicious player capable of losing his cool when provoked. Mexes has received a three match suspension following his altercation, meaning if Nesta goes down with another injury, it'll be back to the one who shall not be named.
However, I could talk about all the boring tactics which went into the game, discuss how Allegri absolutely made a cringeworthy mistake by putting in Ambrosini for Emanuelson, or go on a tirade about how we need video technology, or at the very least an official behind the goal (like they use in Europe). I could tell you how Bonucci is actually Bonera's illegitimate cousin, but you've read all of these things before. What I really want to talk about is Pato.
What's really on my mind: Alexandre Berlusconi was absolutely diabolical against Juventus. he seemed to be playing only to do us fans a favor. Pato was more of a polarizing subject a month ago, with fans fervently divided on the young Brazilian, the tide is now shifting towards a feeling consisting of disbelief, wariness, and a loss of faith. Pato had the same effect in the first half against Juventus that you did. Quite literally, we were playing in ten men for 45 minutes. So many times throughout the first half, Pato was nowhere to be seen - always in the wrong place at the wrong time. What happened to those predatory instincts we were used to seeing earlier in his career? Oh, and did I mention that he succumbed to yet another injury? To count, this one would be the THIRTEENTH different injury which has caused him to miss more than two weeks in the past TWO years! A friend of mind who talked to team physio's at the MilanLab reported that this injury anomaly could be attributed to Pato putting on too much mass in too little time. You may remember that he was a toothpick when Milan first signed him from Internacional Porto Alegre. A player not quite sure where his role would be on the front line. That slim figure quickly grew and bulked up in order to be able to handle the transition from playing as a wide man to being able to handle the rigors of leading the front line. Quite simply, Pato's goal to be able to handle punishment delivered from opposing center backs ultimately was the deciding factor that derailed his once promising career. Overly pessimistic? This would be Pato's worst season by far - tallying only a mere few goals in all competitions. His injuries have now become the norm, and the Pato Corollary never ceases to amaze me for its undeniable accuracy.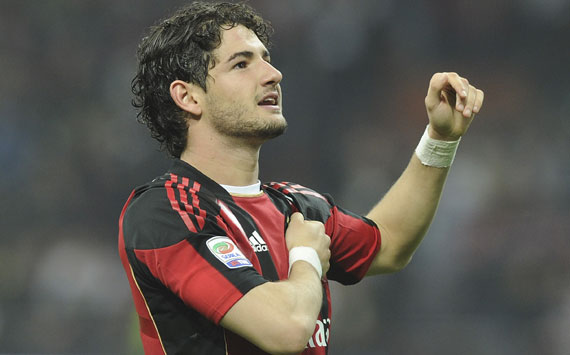 I want Pato to succeed more than anyone ©AP

However, for all my humor directed towards Pato's afro, the fact that he sleeps with Barbara, and his injuries. What we're seeing truly is unfortunate. I remember the first game Pato played in the Serie A, when a lanky 17 year old made his debut against Napoli in hostile environments. Quickly after coming in, he scored his first goal on a wonderful counterattack, by brushing off Domizzi with ease and placing the ball right under the legs of the goalkeeper. I remember my father looking at me and saying, questo bambino sara un fenomeno(this kid is going to be phenomenal). I remember the brace at the Bernabeu against Real Madrid in the Champions League, the brace against Intergentina, the stunning breakaway goal at the Camp Nou vs. Barcelona. I remember how proud I was to see him finally score in the Copa America for Brazil. And to think he has had all these memorable moments already and he's only 22 years old? For heaven's sake, this is the age where players START playing in the Serie A. Essentially, Pato is one of the most experienced 22 year olds in Europe. Not to mention that he accumulated more than 50 goals in Serie A before turning 22, something that only one other player in Serie A history has accomplished. Absolutely incredible statistics that need to be mentioned. And yet, an overwhelming majority of us would be in favor of Milan selling him for the right offer.
I'm the main culprit. As real Milanisti, we are impatient, we expect instant success and have been spoiled with multiple Champions League victories since the time of our birth. Quite frankly, I needed to have a moment alone to truly think about Pato, and what he means to Milan. It is just as likely that he will go on to become one of the greatest strikers in the world if we sell him, as it is that he'll just rot on the bench, injured, and alone. A world class talent, wasted. Let's see what the future brings.
Visit my site, TheMilanGuy.com, for daily rossonero updates from a panel of writers! Follow my personal account on twitter And LIKE my new facebook page!