The past few weeks have been a whirlwind of emotions for Milanisti throughout the world. We endured Antonio Cassano's heart wrenching (literally) sickness, we've witnessed Silvio Berlusconi's tumultuous time as the Italian Prime Minister come to an expected end, and we've been entertained by Milan's impressive five-match winning streak in Serie A, capitalized by a flurry of goals in each game.
Every positive piece of news is weighed down by a negative one. Milan have now qualified in the Champions League group stage, and the game against Barcelona at the San Siro will be decisive to see which of the two sides comes out in first place.
Where to begin? Milan now sit third in the Serie A standings (Juventus have to make up one game) after an impressive streak. The games have been wildly entertaining as the Rossoneri have bagged an impressive goal total in the past five outings: 4, 3, 4, 4, 3. Most recently, we saw Milan obliterate a Catania side that had just won against Napoli the previous week. How I wish we could face Napoli & Juventus with our current form...
Cassano Watch:
- As most of you all know, unless you've been living under a rock, Cassano fell ill after an airplane flight last week. He was rushed to the hospital and the first reports from the famous Italian media outlet La Gazzetta stated that Fantantonio had suffered an ischemic stroke, and some said he might never suit up again. I'm very disappointed at how they handled the Cassano saga from the start, by making it seem much more serious than it was. While he did undergo a heart surgery, many fans around the world were led to believe (and I translated the reports myself) that Cassano's illness was career ending. Of course, everyone loves to shoot the messenger, so my translations went down in flames (thankfully) as new reports surfaced two days later than our very own Nutella King is expected to suit up within 4-6 months. Many teammates have visited Cassano in the hospital and said that he was in good spirits, joking and smiling like always.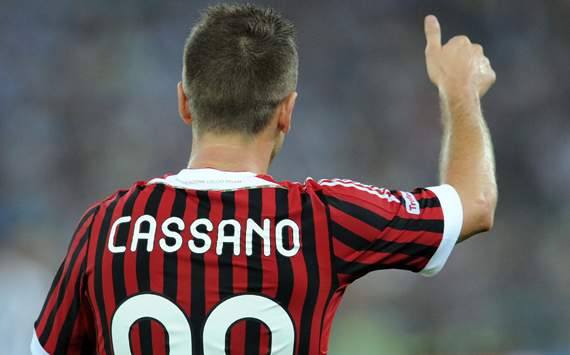 Forza Cassano ©AP

What does Cassano's time out mean for Milan on the playing field? First off, Robinho has to help carry the load, which he has with a brilliant showing against Catania. Pato is expected to come back from his 121,523th muscle injury, and Pippo Inzaghi is dusting off the cobwebs and making cameo roles for fifteen minutes. And where has El-Shaarawy gone?
Galliani stated that Milan are actively looking to find a striker in January to cover for Cassano's spot. He also made it clear that the player coming in will be coming on loan. The biggest name surfacing is the one of Maxi Lopez, who has been shunned from Catania after being the unquestioned leader. Galliano said himself that he believes Lopez IS Milan quality, so this could be a hint that the Argentine striker will indeed be Cassano's temporary replacement. My take: Huge upside. Lopez showed his first year with Catania that he can be a formidable striker in the Serie A, however he has fallen out of favour with new coach Vincenzo Montella who has opted to start Bergessio instead of the blonde hitman.
Berlusconi Watch:
Surprise surprise, Silvio is stepping down from his Prime Minister position. Why? Because he's trying to find enough money to purchase Maxi Lopez.
That was a joke, the real reason is because he lost the majority of support in parliament, but who wants to read about political jargon on a football site anyway? What we care about is what this could potentially mean for Milan. Berlusconi is currently being lambasted by the Italian media after yet another round of sexual scandals have been surfacing in local papers. This, coupled with allegations of tax evasion, and a country in economic peril, have caused Silvio to worry about much more than just his beloved Milan.
Closing Statement:
I'd like to take a moment to explain to everyone why I took this position in the first place. I'm not a professional writer, and I'm certainly not a master of x's and o's. Facts bore me, and that's why I rarely read football articles to begin with. I just watch the game, and try to write about it in my own unique way without being influenced from any outside sources. I realized that one of the ways to stand out from the vast majority of journalists was simply to be myself, and not try to emulate anyone. I've always been highly sarcastic, abrasive to some, and go to lengths to humour friends in real life. I'm certainly not politically correct, and my purpose in this closing statement is to remind everyone to take everything I write with a grain of salt. If it sounds offensive, it certainly wasn't the initial intent.. I am not malicious, and realize my sarcasm isn't meant for everyone. If you're looking for a bland, robotic factual report sheet, visit the Milan offside or countless other sites that provide that material. But if you'd like to read about Milan from a different perspective, you've come to the right place. Also, articles will now be a bit shorter but much more frequent. Check back weekly.
Also, your comments (whether negative or positive) are integral to keep the discussion alive and create a small community on this very blog. Please feel free to post any thoughts at all.
Matteo does most his damage on Twitter, so make sure to follow him! And LIKE his new facebook page!
Forza Cassano