If you think this article will be a praise-laden, filled with stories of delight and majestic unicorns, you're sorely mistaken. It'll have a few story lines depressing enough to cause spontaneous ulcers. That's right, spontaneous ulcers, they exist.. The weekend's 4-3 win over bottom feeders Lecce was yet another alarming reminder that our defence is more porous than the Panama Canal. Abbiati, fresh from a world class season, has changed his philosophy and attended the Dida School of Goalkeeping (also taught by substitute teacher Zeljko Kalac, who came out of retirement at age 67).
For Full Highlights of the 4-3 victory, click here and make sure to LIKE the page.

World Class Prince ©AP

Random Notes:
- As many of you know, Milan were trailing 3-0 at the half after a disastrous first period which saw the Rossoneri lethargic and unorganized at the back. Granted, Thiago Silva wasn't playing so we can easily use that excuse during a bar conversation with fellow Argentinian Interisti. (Speaking of Silva, enjoy him while you can as he will be gone next year.. More on this in a moment).
- Knowing that his initial formation had failed miserably, Allegri turned to a more creative and dynamic midfield by inserting Boateng and Aquilani in the second half. This move turned out to be a masterstroke as the Prince instantly brought a spark with a dangerous shot within the first few minutes of his entrance. After a few more attempts, Boateng broke through with three thunderous bolts of brilliance in only 15 minutes of play. His orgasmic hattrick not only changed the tide for Milan, but led to the improbable winner coming from our resident Apocalypto, Mario Yepes, who dealt the final blow to a shocked Lecce defence.
- A subplot no one has been talking about was the historic matchup of fullback incompetency between Massimo Oddo, who last made his Milan appearance by running around the Olimpico track naked with shaving cream on his head, and Luca Antonini, who needs no introduction. Ironically, Oddo scored against Milan.
- If you didn't think Rino Gattuso could look any more barbaric, think again. He now wears a prescription pirate eye patch. The Head Butt King is OFFICIALLY out for 4-6 months with a serious nerve problem in his left eye which has caused temporary blindness. Gattuso was quoted as saying, "It's going to take a lot more than this to stop me from coming back on the field." Even though I respect his brave comments, I fear this might be the beginning of the end in Rino's legendary career with Milan.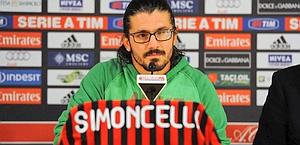 Gattuso sporting his new prescription glasses ©Gazzetta

- Here's the question I pose to everyone. What is Milan's best formation? Our favourite club is one of the few elite teams in Europe that don't truly have a set starting eleven. Many players in different positions are interchangeable. As you can see, Allegri has the unenviable task of figuring out which pieces will work each week vs. different opponents. If you suddenly became the coach, who would you field as the best starting XI barring injuries?
Champions League Update
- Is it a bit premature to say Milan is qualified already? With a commanding 2-0 victory over minnows BATE Borisov, the Rossoneri are tied for first in the group alongside the army of elves known as Barcelona. The determining game will be in November at the San Siro, as the mouth-watering round #2 of Milan-Barcelona will take place.
The Surprise:
- I like to think one of the reasons I was handed this correspondent position from the start was not because of my C+ humour, but because I actually have a few noteworthy connections back in the old country. With my grandfather having been the Vice President of the club under Sordillo four decades ago, my family has maintained some great contacts in Italy who sometimes provide me with golden information. As you may remember, I broke the news about Ronaldinho joining (and leaving) before it was on the Internet, as well as the Robinho rumours from last year. Point being, the few times I do report rumours, it's because I heard them from people who have very close ties to the organization. (As you may remember I also wrote that Kaka would be coming to Milan. I am still 100% convinced this WOULD have happened had Cassano not insulted Sampdoria's owner, causing Milan to acquire him for free.) Anyways, moving to the point: a source who knows most players in the Serie A, and who is also an important media figure in Italy told my father that Thiago Silva will be sold to Barcelona next year. Before panicking keep this in mind - I am wholeheartedly convinced Milan would be doing this because their wonderful scouts have found a suitable replacement in Brazilian who happens to be a lot younger than our Silva. Either way, it's still a shame that we can't hold on to our most prized assets. Still crossing my finger that something gets in the way of this looming deal.
Matteo does most his damage on Twitter, so make sure to follow him!
RIP SIC. Marco Simoncelli.