Scan through the news today and you will read about our troops overseas in conflicts nobody remonstrates about much, and how crucially important it is that a certain named unnamed footballer is hung out to dry by parliament and the media.
Having spent some time thinking about it, I am unable to come up with an issue less important than who a footballer spends his free time with. On the subject, I also couldn't care less what any of players do away from their day jobs. Is it really any of our business to judge them? I think not.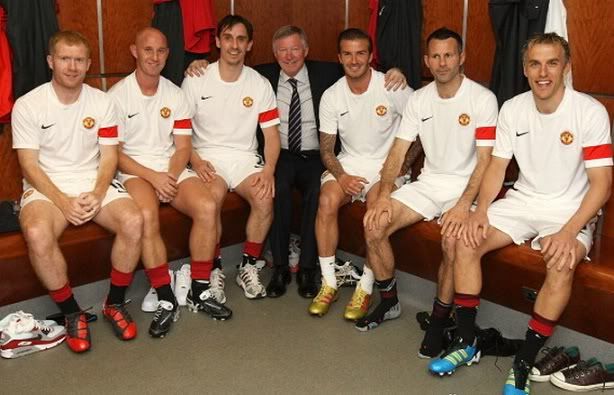 My favourite photo this week
©GETTY


The real judgments in this life are made over longer passages of time and whilst it wasn't the most scintillating match in history, I very much enjoyed Gary Neville's testimonial. Seeing Beckham wear the modern United shirt does make me pine for what might have been, and there are those who are livid that Rooney played at all, but the whole affair serves as a reminder that United get this kind of thing right.
The next thing that needs to be executed correctly is the ninety plus minutes that face us on Saturday at Wembley. For the past 25 years I have been attending games with my dad and his friends and one of their favourite stories has always been how they camped overnight to get tickets for the '68 final. With United's modern representatives making three in four years our generation can now rightly be called the lucky ones.
Ferguson will not want anything left to chance in London. There has been a quiet confidence oozing from the Scotsman over the last fortnight and you can be as sure as horses that he has something up his sleeve. In Moscow it was playing Ronaldo on the left and Hargreaves at right-midfield that flummoxed Chelsea, this season he cold-cocked Arsenal with the Da Silvas. There will be a tactical surprise at the weekend too.
My preference is for a team containing Giggs, Fletcher, Park, Chicharito, Rooney and Valencia. Unfortunately, Park didn't do brilliantly in Rome and Fletch may not be fit enough. The back five pick themselves. Barcelona have looked very tired over the last couple of weeks, their series of clasicos seeming to have taken their toll. However, in Messi they do have a player whose skills transcend the boundaries of the sport. However well United play, the Argentinean is a man we may have no answer too.
So it is over to Fergie and his white rabbit routine. The next couple of days will be painful waiting for the kick off, but that's nothing new. Today and always, we all follow United.

Follow ESPNsoccernet's Football Correspondents on Twitter