Bravo to the boys! I'm bashing out this blog pronto while we can bask in our exhilerating win at the Reebok. As there has, with justification, been much hand wringing at our away performances to date, before Chelsea arrive to sour the mood - not that they will of course - we must salute an excellent team performance. A third away win, and a goal tally boost up to 11 road goals, makes us officially no more the worst team away from home.
Bolton were the form side with three straight wins behind them and still with plenty of work to do battling for their lives near the foot of the table. They looked very ordinary indeed, a return to their pre-Christmas pallor, anaemic in the extreme. But they never got a foothold in the game because we didn't allow them to. From back to front every man in black did his job. Down the years one came to expect a battle up at Bolton, Kevin Davies the man who best embodied their muscular style of grit, boots and elbows. To his credit Owen Coyle has tried to instil a more cultured approach, but without the player quality to carry it off. David Ngog as striker and Reo-Coker the playmaker? Petrov, who has hurt us in the past, is mercurial at best, old sweats like Davies, Jussi and poor old overrated Zat are no longer first choice, and the back four looks lightweight.
But who cares about Bolton's problems. They came up with us over ten years ago, play before similar size gates, but are now paying the price for poor rebuilding over the past two seasons. In comparison, it's a testament to just how well Fulham marshall their own resources from a comparable budget and business template. In skill factor alone, we looked light years ahead of Wanderers. I look through their ranks and only Mark Davies rates as someone I wouldn't mind in SW6.
On the day it was hard to remind myself we were lining up 4-5-1 with Clint the lone striker in the absence of the Russkie. The Texan is a one man forcefield! Two genuine wingers see us make the playing area 'big' - and our 5 man midfield of quick feet, vision and ball skills showed many more strings to our bow than the narrow forward play that's seen us try - and fail - to bludgeon our way into the penalty area for much of the campaign. Of course, our win had much to do with Damien marking his 350th league start with a man of the match performance against their left-back. Forget your chalkboards and analysis charts. We won because we finally produced what's been missing from too many fruitless away forays. Clint plants a delighful curler into the top corner to get us motoring. Please correct me if I'm wrong, but was that not our first direct free-kick goal of the season? Goals two and three come from classic wing play situations and pulling the ball back from the by-line. Defences get stretched, our men are coming onto the ball, nether Demps nor Diarra can miss from close range. Obviously, we've not seen enough of that kind of build up to date. Remember how utterly sterile the side were just a month ago at Villa? Never once turned Villa's back four, and managed one solitary shot on goal.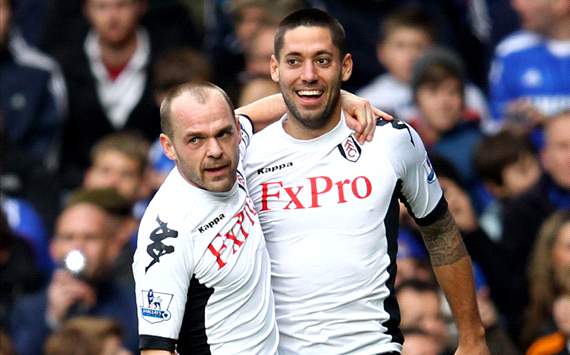 Now all we need is a headed winner from Brede Monday and we'll have the full set for the season! Here's hoping Danny is well again to cover for the unfortunate Bryan and the team carries the same momentum into our local derby with di Matteo's stuttering side. As we are talking Chelsea, yet more grist to the mill that shows big decisions always go against the little clubs. I have a lot of time for Roberto Martinez. His eloquence, despite the clear and understandable outrage at the offside calls that went against his plucky side at the Bridge, was deeply admired by this writer. In fact, I wouldn't mind if we gave Wigan three points at the Cottage to aid their survival battle. Yes, I know football is a cruel game, and the EPL fat cats can't wait to kick Dave Whelan's club back down the table to the servant's quarters, but no side deserves to be robbed of their status, plus the millions that go with it, through such crass ineptitude. That lino must be struck from the lists by Tuesday.
By which time the Superwhites will have cemented their place in the top half of the table by giving supporters another memorable evening at Craven Cottage. Bet on Clint being the catalyst once again. Up to 15 league goals this season for the magnificent Texan gunslinger, and so close to notching another landmark hat-trick. How good has Dempsey been this season? Professionals measure their progress and ability by the company they keep. Now up to 5th on the EPL hotshot list, look at the four in front of him. Van Persie, Wayne Rooney, Aguero and Demba Ba. I don't care what comes out in the end of season polls, by some margin your Premier League Footballer of the Year plays in the number 23 for Fulham Football Club. Yes, that humble little outfit down in West London that never rates any appraisal of note from MOTD or the so-called 'informed' press.
And on that point, our flagship redtop, the 'soaraway Sun' praised Fulham's win at the Reebok 'despite the absence of Danny Murphy and EDDIE Johnson...' You couldn't make it up.
Three more points coming our way at fortress Fulham Monday night. Enjoy!!!
COYW Twitter@fulhamphil