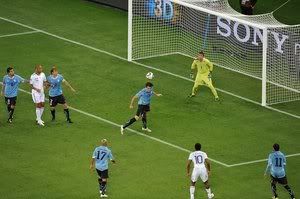 6 Uruguayan players and 2 French players...not a good ratio.
After watching France sink deeper and deeper into the malaise that has characterized the side since, well, forever, I had hoped that the excitement and pride of playing in the World Cup would spur the players out of their doldrums, but instead, it was as if this were the first time they were playing together as a team. Or, to be more precise, as a team of cardboard cutouts.
The simple solution would be to blame Domenech, whose mind numbing tactics yesterday could be used to treat insomnia. The experimental 4-3-3 that he deployed during the pre-tournament friendlies was aggressive and showed promise; however, it was too new, which is probably why Domenech decided not to use that formation against Uruguay. He reverted back to his beloved 4-2-3-1, a rigid setup that French fans have been forced to endure for years.
On paper, the lineup was potentially creative. With Lassana Diarra out, Abou Diaby was picked over Alou Diarra to pair with Jeremy Toulalan in midfield. In front of them was Yoann Gourcuff, and at his side, Sidney Govou and Franck Ribery. At the very top, Nicolas Anelka was the lone striker, a position that left him isolated from the rest of his teammates. Florent Malouda and Thierry Henry remained on the bench, the first for supposedly arguing with Domenech and the second for being too old.
Sadly, the actual outcome was anything but creative. Instead, it was the "usual" France performance - lots of possession but few goal scoring chances.
However, the outcome of the game could have been vastly different. If Gourcuff and Ribery had played at the same level of intensity as Diaby, France's midfield would have had more of an attacking impetus, and Anelka might have seen more of the ball. But there seems to be an unwritten rule that at any single moment, only one player can be in form. Yesterday, that was Diaby.
What really upsets me is not Domenech's original lineup - as I just pointed out, it could potentially have been good - but the fact that he didn't change his tactics when they failed to work. Perhaps Domenech was hoping that Uruguay would deploy a more attacking formation, but within the first 20 minutes of the match, it was obvious that they was going to sit back and defend. Domenech's failure in adapting to Uruguay's tactics is what the problem was. What he should have done was taken out one of the DMs and put in another attacker. Maybe that wouldn't have resulted in a goal, but at least there might have been more chances.
Domenech is "pleased" with France's performance. Really?
But while much of the fault lies with Domenech, it's also hard to ignore the players, many of whom are world class athletes who sometimes forget to show up. I know the manager plays a big role in maintaining team harmony, but what is the point of having so many experienced players on the squad if none of them can provide leadership? They are so busy squabbling amongst themselves and with Domenech that it's amazing they even have time for football.
Playing in the World Cup is the biggest privilege a footballer can ever have. That should be its own motivation. The players are old enough and experienced enough that they no longer need to rely solely on their coach to be in the correct mindset. Domenech might be a bad coach, but even he can't be responsible for the sluggish and careless behavior that was sometimes displayed on the pitch. Tactics, yes. Personal performance, no.
And just a quick word on Uruguay - they approached this game the correct way. They bunkered down in the first half and made sure not to give France any room. Uruguay seemed to have five or six players in their own box at all times and were effective in breaking up what little organization France had to their play. The end result was that France's main offensive weapons rarely posed a threat to Uruguay's goal. It was ugly to watch at times, but it's hard to argue with the end result. A point against a team that was a hairsbreadth from winning the last World Cup is nothing to scoff at. And let's not forget how good of a team they are - ranked 16th in the world, they are only seven places behind France.
Player comments:
Govou had the best chance of the night, but in typical fashion, he flubbed it. Ribery started out somewhat brightly, but his performance petered out in the second half. He couldn't maintain possession and had a harder time than usual in trying to get past opposing defenders. Anelka continued to be unconvincing as the lone striker. While his work rate was terrific, he didn't create any opportunities and was easily nullified by Uruguay.
Nor was there much attacking intent from either of the fullbacks. They did their jobs but could have done better. Both Sagna and Evra can write off yesterday's match as one to forget. In fact, I've already forgotten that they were even there. Lloris wasn't really tested except for Diego Forlan's attempt late in the first half. In central defense, neither Abidal nor Gallas looked entirely comfortable - the former because he's out of position and the latter because he's no longer at the top of his game.
In midfield, Gourcuff put in another lukewarm performance. While he had some nice touches and showed signs of the intelligent play he is capable of, for most of the 90 minutes, he was quiet and ineffective. He hasn't been at his best in the past few months, thanks to drama at both club and international level, but he needs to rise above that and play like he did earlier in the year. France could really use some of his creativity right now.
His partners in midfield put in better performances. Toulalan was great at doing what he does best - breaking up the midfield of the other team while staying under the radar. He had some nice tackles and made some good interceptions. He hardly went forward, but that's not his job, as his duties keep him near the back four. Diaby had a great match and is my pick as the best French player. He was pretty much France's main offensive threat and yet also pitched in defensively. Yesterday was one of Diaby's best matches in blue, and I hope I see more of him as the tournament progresses.