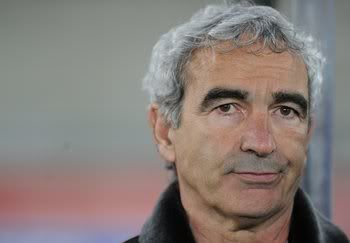 I don't know this man.

I'm going to skip over the events leading to France ending up in the bottom of their group, as that deserves a post of its own. I'm not even going to bring up France's performance in the games because I'm still in shock, plus there isn't much to analyze analyze anyway. Nor am I going to talk much about Domenech because there's nothing new to say about him, but at least he's gone forever.
However, I am going to rant about the players. I blame them more than Domenech, which I didn't think was actually possible. And right now, I'm hating Nicolas Anelka. A lot.
Though it's hard to pinpoint what exactly turned Les Bleus into a production of Mean Girls, Domenech's tenure has never yielded good results, and his relationship with the players has never been stable. His tactics are from the stone ages, and from the day he was hired until the day he was sort of fired, he never figured out how to best utilize his players. He never should have been kept on after Euro 2008, and the fact that he lasted through World Cup qualifying makes me wonder just what drugs the FFF were taking. But most importantly for me, even though it seems otherwise, what with his strange tactical choices and his reliance on two DMs, Domenech has never been able to fully control his players.
Oh, and the best part of yesterday's match? Domenech's refusal to shake the hand of South Africa's coach, Carlos Alberto Parreira. It was an unclassy moment to cap off an unclassy performance by an unclassy team. Because in all honesty, France's performance all the way through qualifying and then in the group stages only confirms what we all knew deep inside our hearts - that France never deserved to go through to the next round. Maybe they even shouldn't have had a place in the World Cup to begin with. It's a harsh assessment, but any team that disrespects its country and its fans the way France did doesn't deserve anything less.
Yeah, you better hide.

But all the Domenech hatred in the world cannot explain away the temper tantrums thrown by the spoiled divas chosen to represent France. What troubles me is that it's the same group of players that are causing the problems. We all know who they are.
Of course I don't know the whole story that lead to the implosion within the squad, at least I won't until Patrice Evra does his big reveal, but Anelka's behavior this World Cup has proven that he has no future in blue. Maybe he never did. From the way he treated Yoann Gourcuff to his insults to Domenech (no matter how France did or what the tactics were, no player should EVER speak to his coach like that. It's inexcusable), he's failed to act like a professional. Anelka refused to apologize for his outburst, and in typical fashion, he was more upset that his behavior became public than the fact that France's poor performance against Mexico was as much the fault of him and his teammates as it was Domenech's. And let's face it, he's not even that good of a player to even somewhat justify his diva behavior. At least Zidane knew what he was doing when he pushed Domenech around four years ago. Anelka's contributions have been moderate at best, and I remain convinced that there are far better options up front.
I'm also really disappointed in /strong>Franck Ribery. He was more humble guy during the last WC, but in the following years, his ego has inflated to massive proportions, and he's become a jerk. His collusion with Anelka and William Gallas over Gourcuff's ostracism, his role in planning the training boycott, and his selfish behavior on the pitch - yesterday he made Cristiano Ronaldo look like one of the Sisters of Mercy - makes me wish he could be axed from the squad as well.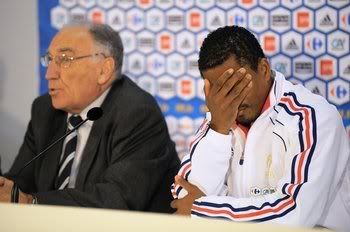 Some captain Evra turned out to be.

Gallas, well, he's always been a petulant diva, so I can't say I'm surprised at his antics. If he is never called up for France again, it'll be the best news ever. Same goes for Patrice Evra, whose behavior as captain has been downright shameful. The fact that his obsession with finding the "traitor" that leaked Anelka's tirade to the press took priority over his displaying leadership and uniting his team so that France could still have a shot at making it to the next round says it all. His post match comments on how he now regrets the boycott merely makes it worse - just what did he think would happen?
Objectively, all this is downright hilarious when you consider that Karim Benzema and Samir Nasri were dropped because they cause drama.
I'm troubled when I think of what Laurent Blanc has waiting for him. It would be hard for anyone to pick up the pieces of the mess that is Les Bleus, but he'll also have several petulant players on his hands, all of whom demand special treatment. Domenech was never able to impose his will on his players, and I am not sure if Blanc's personality is strong enough to manage it either.
Stay tuned for more of the fallout that is sure to take place in the next few weeks.
Or follow me personally @LyonOffside