But even if acting is an unavoidable part of football, it won't be enough to see off a Mexican side that is hungry to prove that they aren't lightweights. Mexico drew against South Africa in their first group stage match, both sides coming away with a single goal and a single point. And while that game can't be compared to France's match with Uruguay, the fact remains that they managed to score a goal while France didn't. With Uruguay winning against South Africa today, France could find themselves at the bottom of the group if they aren't careful.
Quick, someone give him a teddy bear to cuddle.

Unfortunately for Les Bleus, things have yet to hit the upward spiral that everyone has been hoping for. Cedric Carrasso tore his left hamstring at training, an injury severe enough that he has been forced to drop out of the squad. France's request to call up a replacement player was denied by FIFA, which means that Domenech will have only two healthy goalkeepers available. Though if there is a bright side to this, it would be that Carrasso was the third choice goalkeeper and not the first.
Mexico is going into this match will guns blazing, and while they may not possess the big names that France take for granted, they have a host of talented players who will be eager to prove that they belong in the big boy's club. Whether Mexico choose to play an attacking game or follow the examples of Uruguay remains to be seen, but their quick players could be potentially devastating on the counterattack.
As for France, L'Equipe reports that Domenech is fiddling with his strike force. Word is that he will start Thierry Henry tomorrow, with Franck Ribery, Florent Malouda, and Nicolas Anelka playing behind him. It's a combination that we've all seen before, though its efficacy has had varying degrees of success in the past.
Yoann Gourcuff's place in the starting lineup is up in the air, as it depends on who Domenech wants in midfield. Assuming Domenech chooses to continue with the 4-2-3-1, then going by past history, Jeremy Toulalan and Abou Diaby will be starting instead. And while Gourcuff is capable of playing right next to a defensive midfielder (in fact, he seems more comfortable in that position) and is a more than a decent ball winner, Domenech is unlikely to use him there since he's not defensive enough.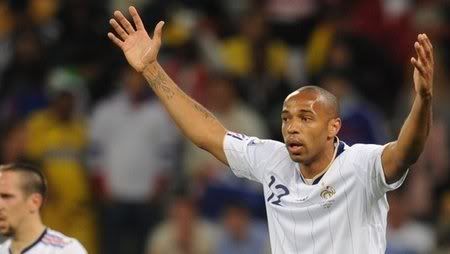 It may be up to Henry to save France's prospects once again.

The back four will most probably remain the same. Bacary Sagna and Patrice Evra will be the starting fullbacks while William Gallas and Eric Abidal will stay in central defense. Abidal, whose best performances have been as left back, is preferred to partner Gallas despite there being other options. And while the reason for this still remains unclear – Abidal hasn't been that convincing as a CB – Domenech hasn't budged on this matter for nearly three years.
Barring any last minute adjustments, the lineup France will use tomorrow will look something like this:
Lloris
Sagna – Gallas – Abidal – Evra
Diaby – Toulalan
Ribery – Anelka – Malouda
Henry
This is a tried and tested lineup, so the players will not have the excuse of adjusting to new tactics. Somehow, France will have to find a way to keep Mexico's strike force muzzled while launching attacks of their own. France have the players to do some serious damage to Mexico, but at the end of the day, it depends on how adventurous Domenech plans to be and what mood the players are in. If they play with the same attitude that they displayed against Uruguay, it's hard to imagine France walking away with more than a single point.
Tomorrow may determine if France can progress to the next round. For all our sakes, I hope Les Bleus can summon the magic that has long been missing from the side.
Or follow me personally @LyonOffside