Here we go, Here we go, Here we go.

Everybody loves a cup final weekend, it's tough to believe that it's now 13 years since a collective of blue strolled back down Wembley way after witnessing Wise going up to lift the FA Cup.

Since then we've been fairly regular visitors to the famous national stadium, old and new, and here is a potted history.


Ron Harris Proudly Presents Chelsea's First FA Cup Win ©Mirror Football


1915 - 24th April vs Sheffield United - Old Trafford

A total of just under 50,000 witnessed the final FA Cup Final before war brought a halt to competitive football proceedings.

Named the Khaki final, due to the amount of uniformed soldiers in attendance, Chelsea - in their tenth anniversary - lost their first competitive final 3-0.

Going into the game as underdogs after a second from bottom finish and a small forward line, Chelsea were always up against it and trailed for most of the game 1-0 before eventually conceding two late goals.

1967 - 20th May vs Tottenham Hotspur - Wembley Stadium



Ron Harris & Dave McKay Grip Hands Before Locking Horns
©courtesy of trueblue67 on Photobucket




The Cockney Cup Final, as was so nearly the case this year, was the first time in the history of the FA Cup that two London clubs competed in the final.

A 40th minute goal from Jimmy Robertson and a 67th minute second from Frank Saul ensured that Chelsea wouldn't get their hands on silverware for only the second time in their history, 2-years earlier lifting the three-eared League Cup.

An 87th minute consolation goal from all time top scorer, Bobby Tambling, wasn't enough to demand a replay.

Tottenham, who fielded two Chelsea youth products in the form of Greaves and Venables, went on to lift the trophy. Fortunately for many of the Chelsea XI that day they only had three years to wait for their moment of glory.

1970 - 29 April vs Leeds United - Old Trafford

The first Wembley final not to be decided on the day, on the 11th April 1970, after a 2-2 draw saw Chelsea go back to the venue of their first ever cup final, Old Trafford.

Both legs are quite reknowned for their status of the dirtiest Cup Final in the history of English football - David Elleray declared that had he refereed the replay he would have dished out 6 red cards and an incredible 20 yellow cards.

Witnessed by a record 28 million viewers, second only in history to the 1966 World Cup Final, Chelsea had to wait until the 104th minute of extra time for David Webb to seal the title, thus ending Chelsea's 65-year wait for the FA-Cup!

1994 - 14th May vs Manchester United - Wembley Stadium


The first Chelsea FA Cup Final that I can remember, and one of the darkest days in my history of supporting the club.

Chelsea, much like 1915. were massive underdogs - facing the team who had recently been crowned Champions and were also looking to capture their first double in their history.

The first half saw Chelsea play the better football and look the more likely scorers, with Gavin Peacock smashing a half volley against the bar, but the second half saw a capitulation by both Chelsea and the referee, with the latter giving a very soft penalty to United after a shoulder barge went awry.

Two converted Cantona penalties followed by a third from Chelsea fan and future player, Mark Hughes, were followed by an unlikely last minute fourth from Brian "Chocky" McClair.

Devastating stuff for the blues, but as with their predecessors in 1967 there would only be a three-year wait until captain Dennis Wise would grab his chance to lift the trophy.

1997 - 17th May vs Middlesbrough - Wembley Stadium



Di Matteo Leaves Emerson in Defence Bewildered After Just 42-seconds
©Mirror Football


Best remembered for a quick goal, Chelsea's trophyless run coming to an end after 27-years and the Chelsea classic song - Blue Day, oh and not to mention the excitement of this (at the time) 12-year-old's first Cup Final day out, forever etched in my memory.
Just 42 seconds into the match Roberto Di Matteo, now West Brom manager, made a darting run through the defence of recently relegated Middlesbrough and smashed the ball in from 25-yards.
A pretty boring match ensued. That is until 82 minutes after the first goal, up popped inspirational wizard Gianfranco Zola to flick a ball superbly across the goal for Eddie Newton to bundle in the second of the game.
27 years of waiting ended, we celebrated, my brother got some celery in his cup of coca cola, Gullit was the first foreign manager to win the FA Cup, Di Matteo had scored the fastest goal in the cup's history and we all sang "When Wise Went Up To Lift The FA Cup, We Were There, We Were There....."
2000 - 20th May vs Aston Villa - Wembley Stadium


Di-ja Vu!
©Chelsea FC



Cue further choruses of "When Wise Went Up..." just three years later again, with Roberto Di Matteo scoring the sole goal of a very boring game after 73 minutes.
Villa rarely troubled, as did Chelsea even though they did have a goal from Dennis Wise disallowed after on loan legend George Weah was caught in an offside position.
This hardly had the glamour deserved for the last ever Cup Final at the "old" Wembley as we knew it. Even Di Matteo's goal was ugly, David James living up to his calamitous nickname and punching at air allowing the Italian number 16 to knock into an goalkeeperless net.
2002 - 4th May vs Arsenal - Millennium Stadium
The second cup final to be held in Cardiff, Chelsea were led out on to the green grass of home by Roberto Di Matteo who had been forced to retire from the game earlier in the season after a horrific leg break in a UEFA Cup tie against St. Gallen.
Goals from Freddie Ljungberg and Ray Parlour in the 70th and 80th minute respectively, saw off a particularly poor performance from the Blues who were hindered by injuries - Hasselbaink was a late addition to the squad even though he was injured and was wholly ineffectual.
It was a long way home from Cardiff that day, and after two successful visits to Wembley in the previous 5 years it was very painful for this then 17-year-old blogger. Arsenal went on to win their third double. Chelsea went trophyless for three more years.
2007 - 19th May vs Manchester United - Wembley Stadium


Mourinho's First FA Cup Winning Team
©Daily Mail


The first ever Cup Final to be held at the new Wembley ensured that we were the club who can lay claim to the first ever and last ever winners of the cup at Wembley new and old.
United had already won the league, and Chelsea had earlier already won the League Cup, in Mourinho's first season without a league title in several years.
Once again this was a pretty boring cup final, and it took until extra time when Didier Drogba played a superb one-two with Lampard, and slipped the ball expertly past the floundering United keeper.
It took 116 minutes for the deadlock to be broken and for Chelsea to take home their fourth FA Cup trophy. We also became the third club in history to complete the domestic cup double, not always a great consolation for missing out on the league, but some salve to the wounds of an unsuccessful league season.
2009 - 30th May vs Everton - Wembley Stadium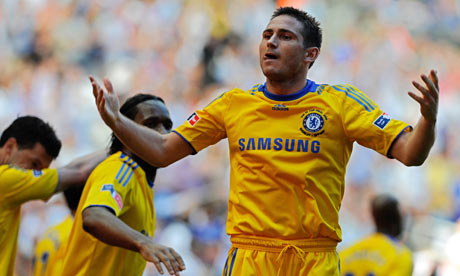 Lampard Seals Chelsea's Fifth F.A. Cup Win ©The Guardian

Just two years after securing the first, and our fourth, cup final at Wembley, temporary manager Guus Hiddink took Chelsea once again to the Cup Final.
After just 25-seconds Louis Saha stunned Chelsea by scoring the fastest cup final goal, thus beating the previous record by Di Matteo by a massive 17-seconds.
Chelsea, appearing as the away side in yellow, took just 20 minutes to make matters even, with Didier Drogba heading in from a Florent Malouda cross.
Frank Lampard sealed the victory with a typical left foot long range effort with just 18 minutes left on the clock, John Terry went up to lift the cup for the second time - a la Dennis Wise.
Five cups, five different managers over 39 years.
This weekend sees us contest our tenth FA Cup Final, and hoping to win our 6th. Drogba could become the third ever player to score in consecutive finals and add to his tally of 5 in 4 domestic finals. Ashley Cole could also become the first player to win 6 FA Cup Medals, 3 with Arsenal and 3 with Chelsea.
FROM STAMFORD BRIDGE TO WEMBLEY, KEEP THE BLUE FLAG FLYING HIGH!

Comments